BODE GEORGE NEEDS HELP -TINUBU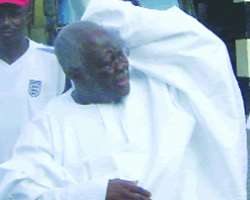 •Chief Bode George
National leader of Action Congress of Nigeria (ACN) and former governor of Lagos State, Asiwaju Bola Tinubu, yesterday urged those who love Peoples Democratic Party (PDP) chieftain, Chief Bode George, to prevail on him to keep silent and stop embarrassing himself in public.
Tinubu, who was reacting to an interview in Daily Sun in which George claimed that the former Lagos governor was responsible for his imprisonment, described George's allegation as a product of 'post-prison and pre-reintegration dementia.'
In a statement, signed by his chief press secretary, Olakunle Abimbola, Tinubu noted that notwithstanding George's present misfortunes, the PDP chieftain still owed his fatherland a decent public conduct commensurate to his status as an elder statesman, former military governor and retired naval chief.
The statement said George's claim of Tinubu's involvement in his travails was absolutely illogical since the former Lagos governor was already two years out of office when the PDP chieftain ran into trouble. Tinubu wondered how George could claim that he was 'convicted by Lagos State Government headed by Asiwaju Ahmed Tinubu.'
The statement reads: 'In Yoruba tradition, and indeed in the tradition of any decent society, you do not kick who is already down. But what if he who is down viciously kicks you to force just any reaction? That is what Chief George is doing. But if he expects Asiwaju Tinubu to gloat over his misfortune, then Chief George has a long time to wait because he will not,' he said, adding: 'But the moral in all of this is simple: those who crave to destroy others often end up destroying themselves.'
'The scandalous statement by Chief George, the indecorous language he deployed ('It was made by Tinubu and his gang'), the ludicrous living in denial ('It is a politically motivated conviction'), not to talk of the claim that Lagos State made a law to entrap erring federal officials, would appear to have issued from bitterness. For the sake of what is left of the George Family name and honour, Chief George should be prevailed upon to let himself go so as to earn a second chance. He fell into a prison ditch he, from the way he spoke, would have wished others would fall into. He should learn his lessons and realise that evil thoughts and actions eventually come back to destroy those who harbour or do them.
'Instead of trying to lay ridiculous charges on his perceived enemies, therefore, he should thank God for having saved him from his enemies. It is his so-called friends he must contend with. One of them, former President Olusegun Obasanjo, thought nothing of rubbing the face of a fallen George in the mud. Did Chief George realise how ridiculous he sounded when he said some 'cabal' wanted to 'create fiction between Obasanjo and I', only to realise that Obasanjo had already gone public with disowning George's carnival-like reception?
'Another, a nameless collective that simply called themselves 'Friends of Olabode George,' launched into a tirade against Justice Joseph Oyewole, who tried the case, referring to the judge as one of Bode George's 'persecutors.' Why a judge doing his work would want to 'persecute' a fellow citizen beggars belief. But it would appear a continuation of the dangerous trend by some elements in the Peoples Democratic Party (PDP) to discredit the judiciary, each time a case goes against them. With all their wild allegations, they discredit no one but Chief George himself, after all they are an anonymous group hiding behind his face!
'Let those who dearly love Chief George prevail on him to stop these embarrassing tantrums, warts and all; he is an elder and, but for his prison stain, something close to an aristocrat in the Nigerian establishment, having been a military governor before. He was also not your run-of-the-mill naval officer, having earned a degree in engineering before enlisting in the Nigerian Navy, from which he retired as Air Commodore.
'Despite his current misfortune, he owes his country a lot - least of which is public decency. He can best achieve this by keeping a golden silence. After all, as the Yorubas say, if you crave not to be disgraced and you are, you pray for long life so that you can rectify the disgrace. Golden and dignified silence is what Chief George needs, not wild tantrums.'