I AM AFRAID OF GETTING MARRIED AGAIN -GOSPEL CROONER, ESSE AGESSE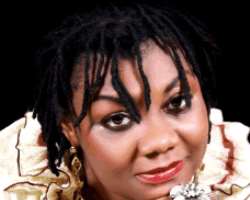 •Esse Agesse
She ruled the music scene in the 90s with melodious, danceable tunes and there is no indication that she would stop now. Esse Agesse's lyrics ruled for years until she took a long break from her blossoming career. Having lived in Ireland for many years with her children, the vibrant gospel act is back with another album titled Rock Solid, which will hit the market soon.
She is not only back for music but has plans to affect lives positively through her involvement in politics. In a chat with Daily Sun recently, the mother of three shed light on her political ambition and her plans to settle down. Excerpts:
What should your fans expect from you this year?
I have finished work on my new album last year and wish to release it before easter this year. It is titled Rock Solid. I am finalizing discussions with the marketer. The video is out so that it will promote the full album. It is to make sure the new album get the desired exposure. As a gospel artiste, I will be ministering more in songs wherever I am called to minister. Music is a continuous thing for me.
Why the title Rock Solid?
It is a thanksgiving song to appreciate the love of God. Over the years, I have seen things happen in my life that if it was not for the love of God holding me, I would have snapped. I am sending a message through this album that God's love for me is rock solid. I am hoping that with the album, people will key into God's love for them and be grateful for His goodness. I trust they will identify with the song.
What is the greatest lesson life has taught you as an individual?
Life has taught me to be appreciative of God's blessings. There are times when things happen that you tend to question why it happened, but if you truly look deep down and look around you, you will discover that with God, you can do all things.
Life has also taught me to be more resilient. I am a free and accommodative person and people tend to abuse that. No one is too small or big for me to relate with. I have learnt not to allow things get to me in a manner that I will be broken.
Do you think Nigerian gospel aristes are faring well compared to their performance in yester years?
I believe all the artistes in Nigeria are faring well even the gospel artistes. I can relate with the artistes of yester years because I have been there. Artistes now are much better off than we were in those days. I have been one of those who paved way for today's artistes. Music for me is not just an outlet for me to just make money, it is an avenue for me to bring people to the kingdom of God. I also want to make money from music because it is a gift. It is where one works that one eats from. Gospel artistes are doing well today.
There is this notion that when people try secular music and it doesn't work, they quickly switch over to gospel music, how true is this?
Secular music worked for me. It made me who I am today. I did not fail as a secular artiste. After I got married, I left the scene to take care of my children and not that I didn't make it then. Since I did not fail as a secular artiste, I will not fail as a gospel artiste too. It is a matter of knowing what God wants you to do and pursuing it with everything you have. I won't say gospel music has been good to me as secular music did, but I am fulfilled. I will continue to do it so as to impact people's lives positively.
What kind of message pervades your soon to be released album?
Love. The theme of the album is love. Love for God, the love of God and love towards God. It is a mixture of Afro Pop genres in a praise manner in pidgin english, yoruba language and my dialect. I did a collabo with gospel artiste, Kingsley Ike in one of the tracks.
What was your born again experience like?
I gave my life to Christ in 1987. I was in my second year in the university. I got born again in Household of God Church. My born again experience was wonderful and glorious. Even after that, I was still singing secular music because I had the gift to sing. People are surprised when I say that and ask why I didn't immediately switch to gospel music.
At that time, pop music was what I wanted to do. The idea to go into gospel music didn't occur to me because I just wanted to sing and make people happy. As I grew older in the Lord, I was able to identify what I wanted to do and what God has called me to do. Although I was doing shows, singing, making people happy, I wasn't happy nor fulfilled. I made people happy, but I felt something was missing because I wasn't using my music to glorify God. People still remember me as a secular artiste and some find it hard to identify me as a gospel artiste, but I believe that is what God wants me to do.
Did you feel different when you switched over to gospel music because you were, used to secular music?
Not at all. Even then, I add gospel music to my songs. I had identified with God even as a secular musician. My gift was to praise God with my songs and I feel very comfortable when I am praising God. I am in my element as a gospel artiste. It wasn't hard for me to make the transition.
As a christian, how would you rate Nigerian Christians?
It is only God that knows who serves Him in truth and in spirit. I know myself and I know my heart. So, if you tell me you are a Christian, I will believe you. Truthfully, some people call themselves Christians but behave worse than the so called unbelievers. It will be hard for me to go out of my way to defend another Christian because of how people bastardize Christianity.
There are values we should have as Christians which is missing in a lot of people. I have been bitten many times by Christians so it will be hard to vouch for anyone who calls himself a Christian. It is only God that knows His children. I am happy when I meet Christians and believe at the end of the day, we will all make heaven. Christianity should not be a slogan here, it should be a way of life.
What has music added to your life?
Music has made life worth living for me. My children are the most precious gifts God has given to me but without music, life would be drab. When I am bored, I write songs, think about things around me and praise God. Music makes life meaningful and with it, I will be able to impact lives politically too. I am going into politics in Delta State and hope to impact my people with music as a tool.
Why politics?
We need Christians in politics. I have lived and worked abroad and I see how things are being run. It is very different here. I am also someone who wants to give back to the society. Although I was brpought up in Lagos, I am from Delta State and I am working towards giving back to my state through my political ambition. I believe I will be able to work with the right people.
Recently, women have been making so much noise about representation in politics but there seems to be little achievement so far, what do you think is responsible for their poor results?
I don't know why, but if I know any woman that is coming out for any post in this era, I will throw myself solidly behind her. The men have made a mess of the system, it is time for women to clean up the system. It is not going to be easy, but we have to keep trying to make things happen. A woman might not be able to take charge immediately, but we have to assist the men to learn more.
I respect women going into politics now, it is not easy at all. People tell you that it is loose women and those who lack values that go into politics. It is also seen as a man's game and considered dangerous for women. A particular group of people have made politics a stronghold in Nigeria and act as if without them, nothing will happen. It is high time that is broken. Men and women with values should come into politics to make a change.
If a woman has anything to offer, let her come into politics, she can make an impact. Some men will intimidate you by saying if you don't play ball, you will not succeed. If a woman can keep herself and believe in God so far you have what it takes to succeed, the sky will be her starting point. There is no way God will not bless your efforts if you are persistent and consistent in pursuing His plans for your life. The time for change is now. As a woman, I challenge my fellow women to stand for what is right and support me.
Are you forming a party or you are joining one?
The party I will be working with is Peoples Progressive Party. The name of the flag bearer is Prince Obaro O. R. Unuafe and I will run as a Deputy Governor to him in Delta State.
Why is it that women are not consistent in supporting their mates in politics, they tend to give in easily. How do you intend to change that now that you are contesting as a deputy governor in your state?
I am going to surround myself with able women by God's help. Women who know their onion and worth. This is not a time for women to give in to petty jealousy. We have to work together. I am particularly concerned about women empowerment and need support from women.
Politics is viewed as a dangerous terrain here, are you not afraid?
I have God the father, the son and the Holy Spirit behind me. So, I am not afraid. I know that God is behind me in this. I have prayed about it and I am convinced. I have no fear because it is God that has given me the opportunity. If I die today, I know that I am dying for a worthy cause. My prayer is that I don't die before my time.
How are your kids?
They are doing well. I am empowering my daughters to know that they can be what they desire without feeling inadequate as women. My son is doing great as well.
What kind of relationship do they have with their father?
They have a good relationship with him. He speaks with them all the time and they respect him as their father.
Can't you go back to your ex-husband, is it that you have not forgiven him?
We talk. The issue of forgiveness did not arise at all. I will not put myself in a position that an opportunity will come for me to be happy and I will throw it away just because I am trying to wait for somebody. We are both adults and we should be responsible for our actions and decisions. Life is sweet and I am happy with myself, I believe he is also happy. I have forgiven him and also hope that he has forgiven me too because I am not perfect. We relate because he is the father of my children and I am the mother of his kids.
Has music blessed you financially?
Initially, yes. God blessed me financially when I started as an artiste. Now, it is not giving me finances like it should but I trust God fully to make money with my new album.
What do you think today's musicians are lacking?
Content. There is no message, just meaningless noise and it is selling. That is why it might be hard for someone like me to breakthrough now because Nigerians love the noise and not message. It is people who value the message that will buy my album.
The way some gospel artiste dress are in complete contrast to the gospel, do you think there is a correlation between a gospel artiste and the way a gospel artiste should dress?
If God is going to look at us now, He would look at the heart. But the aspect of exposing one's body even when one is dressed is wrong. A gospel artiste should dress in such a way that will portray what you are saying. It is not right for a female gospel to dress and her boobs are falling out of her dress. Gospel artiste should dress in a presentable manner. As a minister in songs, gospel artistes should dress in a way that people will not doubt God in them.
It is alleged that you are now going out with someone, how true is this?
It is just a rumour, there is no one. But I am considering someone now.
How do you think your kids will react to your relationship with him and your plans to remarry?
I hope they are old enough to realize I have lived a pure life after my separation from their father. They have not seen me with any man or anyone who says he is dating me. If at this time in my life I am saying I want to settle down again, they should be wise to understand my feelings. My first daughter is even encouraging me to settle down because she has seen that I have devoted my life and time to them all along. My children won't begrudge me if I decide to remarry now.
Given your first experience at marriage, aren't you afraid of going into marriage again?
I am. I don't want to live in sin. I am a woman and needs company. I am flesh and there are times I would want a companion and I would rather do it right than live in sin.
What advice would you give to women who are facing great challenges in their marriages?
They should try as much as possible to resolve it. No woman can tell you that her marriage is very sweet. There is no perfect marriage, but women should communicate fully with their spouses. Their husbands also should communicate well with them so as to understand their stand at every given point of time. Marriage is not easy, but both parties should work at it. In Africa, it is left for a woman alone to work on her marriage. Men should come to an understanding that both parties have to work together to keep their marriage.
What are your likes and dislikes?
I love open minded and lovely people. I dislike liars no matter their reason for lying. I also dislike greedy people.