I'm Not Scared Of Marriage Because My Man Understands Me-----Doris Simeon-Adenimokan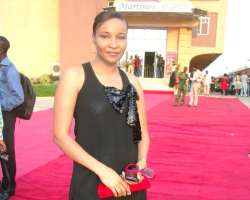 Nollywood actress, Doris Simeon-Adenimokan, is known for her panache in interpreting roles in movies and which has endeared her to a lot of fans. Now married with a kid, the actress, in this interview with TOPE OLUKOLE, speaks on her experience as an actress, matrimony and other issues.
What is the new job you have at hand now?
We are on location for the Dagrin movie.
What is your role in that movie?
I'm playing the role of Dagrin's girlfriend. Not many knew that Dagrin had a lady when he was alive. It is an interesting experience.
Let's talk about your first movie and how much you collected?
Actually, my first movie was entitled "10 million naira" but it didn't come out until some years after I did "Iseju Marun" and "Oloju Ede", but I can't remember the amount I collected.
What challenges did you face during your first time on set?
I can't remember facing any challenge. I thought I was going to have problems with the leaders in the industry, but I was encouraged and taught many things.
What is your most challenging and best movie so far?
Every movie comes with its challenges but 'Omo Iya kan' where I acted two characters as one person, was very challenging. Again, I produced the movie, coupled with the fact that I just had my baby and lost my dad, so it was a bit difficult to concentrate. Also, the Dagrin movie is challenging but interesting.
How did you start as an actress?
I didn't know I was going to become an actress, I just loved entertainment when I was young and wanted to be behind-the-camera personality but I became an actress. I just love anything entertainment
What else do you do apart from acting?
I am a complete actress for now, but I am planning to establish a salon.
Tell us your experience at the 'Eti Keta' location
It was fun and I worked with most of the people I had worked with before. The location was in Ilorin and that was my first time there. The people there were accommodating and I played that type of character for the first time but it was fun.
Who will you like to work with?
I will like to work with Hollywood stars like Will Smith and Angelina Jolie.
Who do you look up to in the industry?
First, it's my mum, then Joke Silva and some other great actors and actresses.
How many movies have you featured in?
I have featured in movies like 'Onitemi', 'Omo Iya Kan,' 'Asiri,' 'Eti Keta', 'Omo Jaye Jaye', and now 'Ghetto Dreams'. I am also planning a premiere of 'Asiri', which was shot in 2009, it will be released soon and it will go to the cinemas.
How does your husband react when you play romantic roles in a movie?
My husband is a movie director. He is even the director of 'Ghetto Dreams'. He always encourages me to be real as an actress.
How has it been as a married actress?
It hasn't been easy being a wife, a career woman and mother. I have been able to balance all, though, through the special grace of God. It also depends on the kind of man you have as husband. Like my husband, he's a listening and caring man.
What are your hobbies?
I like reading, watching movies because it's part of me and I like meeting people.
What is your philosophy of life?
Life changes every time and you have to change with it.
People talk about you being with your husband always. What is your comment?
It is normal because we do the same kind of job, so I don't see the reason we shouldn't be together. Although, we don't always work together.
How do you juggle acting and taking care of home?
One doesn't disturb the other. I make sure I have time for my family; my job is secondary.
Are you scared when people say celebrities' marriages don't last?
Why should I? I don't, because I married the man that understands me. God answered my prayers by giving me my kind of man who cares. He is nice, hardworking and very focused. So, these are the qualities that attracted me to him.