Why celebrity marriages crash – Folake Shadare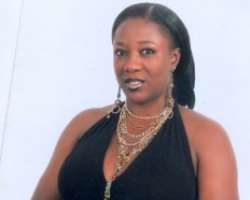 Folake Shadare is by no means an unknown face in the Nigerian movie industry. A former beauty queen, an actress of note and producer, she started acting in 2005 and stayed on the screen for four years before she travelled abroad with her man. Now back to the country after her sojourn in the United Kingdom, she's set up a Film Academy where she hopes to train young and aspiring actors and actresses. She recounts her success story in the industry.
You started out as a model before you veered into acting
Yes. I was once a beauty queen and I have five crowns to my credit. I succeeded Kate Henshaw as Miss Lagos State and went ahead to win Miss La-Tropicana and Miss Vicina. When I got married, I needed the break to have my babies.
If you say your entry into the movie industry was an accident, does it mean you didn't plan to go into acting in the first place?
Oh yes, I studied History and International Relations, at the Lagos State University. But meeting a friend Bukky Wright, in a boutique changed my career plan. Our chance meeting and my decision to follow her to a movie location got me my first role. The movie KKK, produced in 2005 was my first
You've been off the scene for sometime, what happened?
I took a break to attend to my family. But I'm coming back to the industry very soon. You know when you are newly married, you need time to nurture your marriage. That's what I did. I travelled out of the country with my husband in 2007.
And since you return . . . ?
I shot a film titled "Oluwajomiloju" where I featured popular fuji musician, Pasuma Wonder and Hip-Hop act, 9ice. I had the feeling that having Pasuma and 9ice on the same set would help boost the film.
I also shot another film titled "Ile ka si wo" (What do we do) and the film is receiving finishing touches.
At the moment, I'm planning to set up a Film Academy, with the support of my husband. We hope to train young and aspiring actors and actresses when the academy kicks off.
Omoge Campus was one of your most challenging movie roles, how were able to excel?
Omoge Campus was not the film that launched me into mainstream movie worlds. It was "City Girls" where I acted about two scenes and three sequences in the movie. That was the movie that brought me into the limelight.
Most actresses dictate what roles they play in movies. Are you one of them?
Before I got married, I used to feature in any movie. But after marriage, I started selecting the roles I play in movies. As a married woman, you are expected to be decent in your lifestyle.
What would say stands' you out among your contemporaries?
Folake Shadare is Folake Shadare. I will never be Ronke Oshodi either will I be Funke Akindele. I remain myself.
After eight years, in the industry what would say has been your driving force?
I'm a very humble person; I humble myself a lot. And that's why most producers always want to get me on their sets. Nothing moves me and I'm amenable to any situation while on location.
People talk about the ill-treatment, harassment and all that in the industry…
I am not aware of such things happening in the industry. When I came into the industry, I maintained a status quo. I'm scandal free.
Should there be disparity between the Yoruba and the English movie industry?
I don't really understand the discrimination that goes on in the industry. There were a couple of times, I'd wanted to star in English films. I went for auditions but I was not given a role. The English sector has this rigid decision of featuring faces that are familiar to them. Yes, the industry is one, but I don't see it as one. This is because, the English sector is refusing to be part of us, just as we are part of them. Most Yoruba producers star actors and actresses from the English sector but they rarely star us in their on own films.
How's marriage?
Marriage is fine because I married my best friend and he's everything to me. I met him through one of my friends and the rest is history. My dream is to become successful in life.
What could you attribute for being responsible for crash in marriages of celebrities?
I don't really know, but I think everything depends on luck. Everything depends on luck. Some of the celebrities whose marriages crashed were not only unlucky, but they probably married another person's husband.