ALL AFRICA GAMES 2011: SOUTH AFRICA PLOTS NIGERIA'S FALL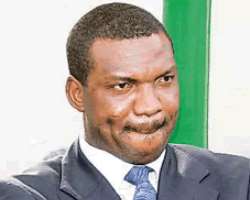 •Eguavoen
Nigeria's dream of winning the All Africa Games in Mozambique this year has suffered a devastating blow as the organizers have cancelled Wrestling and Powerlifting for Special Sports after intense lobby from South Africa. Instead, they have introduced special sports swimming with an outrageous 50 gold medal for grab.
The Mozambicans have relied on South Africa in the provision of essential facilities for the games which holds between September 3 and 18 in Maputo.
The South Africans are stiff scared about Nigeria's exploits in Wrestling at the 2010 Commonwealth Games in India and feel that the best way to stop Nigeria is to cancel games where Nigeria has advantage.
Director of Sports Development in the National Sports Commission, Dr Patrick Ekeji, confirmed the development saying that Nigeria has complained to the AU sports ministers and committee of experts, adding that the cost of upturning the decision is huge.
'If we want to upturn the organisers' coup, we have to call for the meeting of the Committee of Experts and the AU ministers,' Ekeji said. 'Hosting these meetings will cost much money. But we are not losing sleep over the decision. We have fallen back on our plan 'B'. We will use the money to send some of our military personnel to shooting training overseas and we are sure that Nigerian soldiers are among the best shooters in the world.
'Some disabled athletes have also taken up the challenge and promised that they would win enough medals in swimming. So, what we need now is the funds to send the athletes on training immediately. The organizers have also introduced all manners of track and field sports for the special athletes but we are not bothered.'
The director-general, who disclosed that Nigeria was on course for the Games, however, appealed to the National Assembly to hasten the release of funds for the All Africa Games, so that 'we are not caught in the web of sports politics of the South Africans,'
He said: 'We have done all the preparations that we can do without money. We are just waiting for the next stage and we hope that our funds are released on time. The fact is that we know what to do to move sports forward and also claim the top place in Africa but funding has been the bane. We have just defended our budget at the National Assembly and we hope that they will help us by releasing the funds immediately.'