Ayo Akintade: In Nollywood because of fans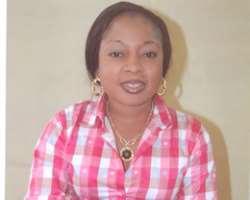 Ayo Akintade is a fast rising, Nollywood actress. The beautiful actress from Ile-Oluji, Ondo state is appreciated for her roles in films. In this interview with MURPHY AJIBADE ALABI, she speaks on her sojourn in the make-believe industry and how her fans saved her acting career from her parents who never wanted her to go into acting. Excerpts.
Of all professions, you chose acting, why?
It is because of my mother. She used to be a media person. She worked in a media house, LTV 8, Ikeja, Lagos. I liked what she was doing, at that time. She used to write news, and I fell in love with the profession. In one of our discussions, she told me to go and study Mass Communications, so that I will be a newscaster. But along the line I went into acting. They were so on my neck that they did not want me to act, because my parents are pastors in Mountain of Fire and Miracle Church (MFM). You can now imagine the kind of pressure I went through on my chosen career. Initially, they were so difficult, but I stood my ground, and my fans saved my career.
What do you mean by fans saving you career?
My parents don't live in Nigeria. They live in America. In one of my mother's visit to Nigeria, we went for shopping at Victoria Island, when we got there people were shouting my name. They were telling me they like the way I interpret my script, that I act like Shola Shobowale. They even said that I am her junior in terms of acting. They said all kinds of things that I am very aggressive in the movies. They went further to ask if I was really aggressive in real life.
With what went on that day, when we got home, my mother went upstairs to her room. She told my father what happened and they told me to kneel down. They prayed for me. Ever since that day I became free, having my way in the industry. I think it is because my parents are in support of my acting career.
When actually did you join the industry?
I started in 2002. But I was not really acting. Then, I was not a full-time actress because my parents were not in full support of me going into acting. My parents gave me their nod in December, 2007. So, I should say I started acting fully in January 2008.
2002 through 2007 what were you doing?
I was doing some jobs. I was behind the camera. I was hiding simply, because I didn't want anybody to see me. I didn't want to take any lead role. But once my parents prayed for me in December 2007, in January 2008, I came in as a producer, fully. My parents were so much in fully supports of me, they even supported me as a producer.
What was your first film?
It was Owomaga. I produced it in December 2007. But it came out in September 2008. I have also produced films like, Ojiji Ife, Aiyenifemi and Fadaka which is my latest film. It just came out about four weeks ago, and it is marketed by Isolak Film. My other film will be coming out in April, titled Fesojaiye. The message in the film is that people should take life easy and not rush things.
Apart from Owomaga which you produced yourself, which other films have you featured in?
I have acted in Omoge Iboji, Majemu Tole, Iku Ile, Arin Ota and so many others that I cannot mention.
Which film brought you to limelight?
The film that really brought me to limelight – that made people to start comparing me with Shola Shobowale was Haa! It was a film in which I slapped Yomi Fash Laso.
Which role was most challenging to you in your films?
Haa! Is the most challenging one that I have done. In the film, I was made to shout, and upon watching it, people thought I am naturally aggressive. I am not. I was just doing my job. I don't know why those people gave me such a role. It did not reflect my real self.
Can you differentiate between Ayo as an actress and Ayo, off the camera?
Ayo in real life is a very simply person. People that know me can testify to it. My career is just making me to be outgoing. I like a very conducive area. I am very quiet person. But Ayo in the movie or can I say Ayo as an actress, is violent. Because the role they always give me is either I shout or I break a bottle or I acted as a prostitute.
Who are the people that inspired you acting career?
Aunty Shola Shobowale is one of them. There was a film I produced, Aiyenifemi. I needed somebody to play the role of my mother, I had to wait for her to return form London, so that she can act the role. and she did. Shobowale is one of my role models. Also Bose Akinola. She is like a sister to me. Others are Moji Olaiya, Faithia Balogun.
As an up-and-coming actress, have you been sexually harassed?
I started as a producer in 2008. The person that I came into the industry through his production used to come to my mother at LTV 8. His name is Laide Olobe. So, people used to think at that time that we were dating. By the time I started gaining my way, I mean, gaining my feet in the industry, it was too late for anybody to come and toast me. I have never dated anybody in the industry since I came in.
But did you intend to do that?
If I am going to date somebody in the industry, it is going to be my wish. It is not going to be because of what I want. I could get what I want with the help of my brothers and my sisters and my God.
What about your real self and your family?
My name is Ayodele Akintade (aka Jampepe). The name was given to me by a cameraman, called Lekan Bature. He gave me the name because according to him I am like a petite and, I am intelligent.
I am from a family of six, including my father and my mother. I am the second born of my family, I have an elder sister who is now married with children. I have two younger brothers. I am from Ondo State, Ile-Oluji, in Oke Igbo Local government.
Your educational background?
I attended Mayflower School, Ikenne, Ogun State, that is where I had my secondary education. I was in boarding school all through. I went to Tunwase Nursery and Primary School, that is where I had my primary school briefly before I was taken to Mayflower Junior School. I went to The Polytechnic, Ibadan for my National Diploma in Marketing. Then I went to a private university, Lead City University, Ibadan for my B.SC in Mass Communication. I later went to The Polytechnic Ibadan for my HND in Marketing.