Has anyone seen Maryam Hiyana's baby?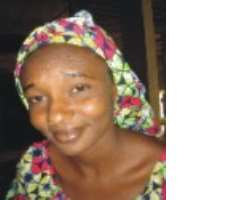 Kannywood A-list actress, Maryam Hiyana weathered a sex clip scandal, got married and is now living happily ever after, against all odds. She recently had a baby.
While there has been an incredible show of solidarity within Kannywood regarding pictures of the new-born now being referred to as 'Baby Hiyana', fans of the Hausa movie industry can't wait to get a glimpse of the famous tot. "It was impossible for me to get any pictures, believe me," one insider apologised to ArtXtra, citing eagle-eyed parents.
The secrecy is only fuelling anticipation, remniscent (if only a fraction) of the hoopla surrounding Hollywood couple Brad Pitt and Angelina Jolie's latest baby, whose photos fetched the stars a cool $14million, reportedly.
While 'Baby Hiyana's pix will certainly not command such a figure, Kannywood watchers are still feverishly "Waiting to see if the little gem will look half as cute as its mother," one Hausa movie enthusiast gushed. So, do you have any pictures? Please share!