UCHE JOMBO ON ENGLISH AND YORUBA NOLLYWOOD-'YORUBA SPEAKING ACTORS DO NOT RESPECT US'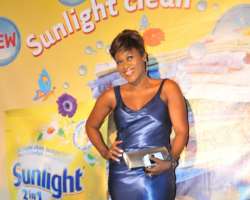 Nollywoood diva and head honcho at Royal Art Academy, Uche Jumbo, has spoken out, on the silent issues bothering on the level of respect that movie stars in the English and Yoruba genre of Nollywood accord each other. The eloquent English speaker spoke to THE REPORTER on the vexing issue, at the last BON award, after an ego flaunting incident had occurred between the Yoruba and English actors/actresses, who were at Ijebu- Ode and Abeokuta for the award ceremony.
"Yes. I refused to speak at the thank-you dinner because the organizers said I should speak on behalf of Nollywood. I am too young to speak for this industry, in a gathering that has elders who brought me up in the industry, present. I am not a person who is scared of speaking in public but I won't allow myself to be pushed around. How could some body just call me in the middle of an event to perform such a task; nobody can push me around?
You talked about the ego thing or the lack of respect that exists between Yoruba speaking and English speaking acts. So long as I am concerned, the reverse is the case. This is because, I for one, do not watch their movies, since I don't understand the language. The few I recognize, I great them when I see them. But when most of them (Yoruba actors) see us (English Speaking actors) they always put up this attitude that says we must be the first to greet them. And so long as I am concerned, they do not respect us at all."