GRATITUDE COMES TO TOWN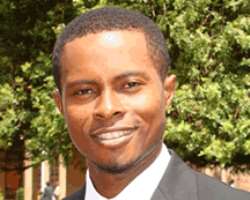 Chijioke
After several months of painstaking planning and wide range consultations, the maiden edition of Gratitude, the latest publication from the Jesuit Development Office of the North-West Africa province of the Society of Jesus, finally made a debut amid plaudits and panegyrics.
The 16-page quarterly news and pictorial magazine, in the words of its youthful editor, Rev. Fr. Chijioke Azuawusiefe, SJ, graciously shares its stories and inspirational contents with friends and benefactors of the province, comprising, Nigeria, Ghana, Liberia, Sierra-Leone and Gambia, as partners in God's mission.
Shedding more light on the magazine and the significance of its name, Azuawusiefe, who also doubles as the Director of Development in the province, explained that thankfulness was a universal expression of gratitude, hence the name.
'Gratitude is a positive attitude in acknowledging blessings, graces, favours and benefits received or hoped to be received. Gratitude differs from indebtedness, which puts one under an obligation to return a favour. This forces the recipient to avoid the benefactor. On the other hand, gratitude motivates the recipient to seek out the benefactor and to improve his/her relationship with the latter.'
Going down memory lane, Fr. Azuawusiefe reminded us that St. Ignatius Loyola, founder of the highly revered religious order, was very strong on gratitude. 'Honour your friends and show them gratitude', Loyola admonishes his sons and followers.
While officially presenting the well-applauded publication that seeks to chronicle and update friends and benefactors with all the major events happening within the Province, Rev. Fr. George Quickley, SJ, Provincial, North-West Africa Province, Society of Jesus, said the name was appropriate and means a lot to them.
'Gratitude is a magazine that lets our friends and benefactors know that they are part and parcel of the apostolates and the companionship we share as Jesuits… The name chosen for this magazine is quite appropriate because it not only expresses our attitude to the many ways God continues to bless us, but also an expression of our thankfulness for our friends who collaborate and support us in our apostolates and communities.'
Meanwhile, Fr. Azuawusiefe and his team are already working on the second edition, expected to hit town before the end of this quarter.