PDP PRESIDENTIAL PRIMARIES: ATIKU, INEC DISAGREE OVER PETITION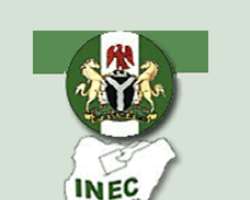 The Independent National Electoral Commission (INEC) has said it was not aware of the petition written against the candidature of Peoples Democratic Party (PDP) presidential standard bearer, President Goodluck Jonathan by the former Vice-President, Atiku Abubakar. The Commission made this position known as it commenced treating of petitions and complaints against National Assembly party candidates for the April 2 elections.
The former northern consensus presidential aspirant had reportedly forwarded a petition to the INEC detailing how he was rigged out of the presidential primaries of the PDP and the need for the Commission to take an action.
However, the Commission disclosed that it was not aware that Alhaji Abubakar sent a petition to it saying it was bound to treat it if any was sent.
INEC Director of Public Affairs, Emmanuel Umenger told newsmen that the Commission was not in possession of any petition or letter regarding the PDP presidential convention from Alhaji Abubakar.
However, the Atiku Media Office in a statement in Abuja, has described as worrisome a situation where a petition that was authored and duly sent to INEC should now become a subject of controversy.
According to the Media Office, the petition which was written on January 28, 2011 on behalf of the Atiku Campaign Organisation by its Director General, Senator Ben Obi was received and acknowledged by INEC on January 31, 2011.
The INEC has been inundated with petitions over names of candidates submitted by political parties bordering on requests for rejection of such names or substitution from the parties.
It was gathered that following the closure of substitution of candidates yesterday, INEC would begin considering the complaints with a view to verifying them on their merits. A top INEC source said that there was no state where the Commission has not received petitions on candidature of parties' flag bearers.
'At the end of the day, the Commission will go through them and ascertain their genuiness because we also aware that some of them are frivolous,' the source added.