I PRAY GOD DOES NOT GIVE ME A HUSBAND THAT WILL END MY CAREER – BLAISE, RAP ARTISTE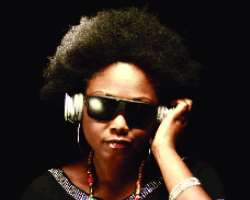 Blaise
Funke Martin Luther, a.k.a Blaise, who was a former member of the group known as Trybesmen, doesn't believe in undermining female artistes. Determined to consciously express her poetic side and influence the society positively through music, she is asserting herself in the face of intense male dominance in the industry.
Armed with poetry and rap music, the achitecture graduate is indeed blazing hot and won't stop until she has fulfilled her destiny in music irrespective of her marital status. In a recent chat with Daily Sun, the rap artiste who looks up to the late Fela Anukulapo Kuti and Bob Marley doesn't mind her children going into music. Excerpts:
Where have you been?
I have been working on my album and also trying to define my sound. I am in the business of defining the direction I want to take my music. It's taking time because it has been a very painstaking process but I have finally arrived at a place of comfort where I am comfortable with what I am doing. My identity as an artist which includes being a poet although people know me as a rapper. There is a whole lot more to me musically than that and that is what I have been trying to put out, I have been working on songs that will show case that more in greater light.
Will we be seeing more of the poetry Blaise now?
Yes, there will be more of poetry there will also be more of the musical Blaise, I am a composer and a producer, I thank God for the gift, I also play guitar. I just felt like it is very unfair of me to have all of these gifts and not have a place to express them and I feel very boxed in the whole rap thing. I just needed to expand my horizon so I'm going to be doing more musical things and more poetic things this year.
What else have you done to improve yourself?
I left Nigeria last year to further my studies, I just finished my HND in the polytechnic of Ibadan, I read Architectural Technology. I wanted to go ahead to do my Masters but upon getting there, I also tried to look into the area of music in the UK and so, I cannot put my Masters aside to pursue that. I just decided to combine both.
Tell us about your forthcoming album?
My forthcoming album is to be titled Love and Power, it is more musical, poetic. It is more me.
How many tracks?
I am aiming at ten tracks.
All rap?
No. Singing, poetry, rap.
There is a genre: spoken words, is your poetry in any way associated with this genre?
Yes it is. It is related to spoken words, in fact it is spoken word. I am sure you know that rap is very related to spoken word.
How was growing up for you?
I grew up in three places; Lagos, Ibadan and the UK. It wasn't bad, I'm the only daughter of my dad and mom, I have four siblings. I had my primary education in Lagos and in the UK. I started my secondary education in the UK and finished here in Nigeria at The International School, Ibadan and I went on to study Architectural technology at the Polytechnic Ibadan.
So how did Architecture enter music?
It was not Architecture that entered music because it was Architecture that came first. So, it was in the course of my study that music happened. I have always had music as an hobby but along the line, I wanted to explore my musical side more, so, that one just took up a life of its own.
How did you come about rap?
Music has been an hobby, I have also loved the genre of hip-hop, and naturally, I gravitated towards it because of my liking for poetry and spoken word and stuffs like that. It was a natural progression, rap just became a part of my own musical personality as time went on. So, that was basically how I entered into it. Eventually, I got to meet more people in the industry that did rap and that cemented my efforts. It started off with me meeting Eldee the don, and that was what kind of kicked off my own musical life as a rapper and a musician.
So who were your influences?
I liked listening to people like 2pac, Biggie, it was not all about rap. I also liked people like Fela and Bob Marley. The kind of music I wanted to make was more in the line with what they were doing which was very conscious of our society and what is happening to us and affecting us as a people.
You must have been a tom boy to have loved those musicians, so what were the pranks you played while growing up?
I think the first thing I have to say is that I can't really see how my choice of music leads up to me being a tom boy.
But we had people like Destinys Child, Spice Girls, why the choice of those musicians?
Well to me, it doesn't really matter. You can't really tell that much or you shouldn't be able to put labels on people based on the music they like, so that shouldn't actually be the question.
So are you a tom boy?
Some people say I am.
So how close are you to other female rappers?
Not really close, I won't say I'm really close to them. I do have cordial relationships with them, we get along when we see, it is not so bad, I get along with them.
Did you feature any other musician in your album?
Yes, in this present album. So far, I think I have one main feature which is Amaka of the Thoroughbreeds on it.
In the Nigerian music industry who is that rapper that you would love to have a collabo with?
I think I have already done a collabo with that person and that is M.I. Any other person would probably be Mode 9 and I have already done something with him too.
Are you planning to go into modeling?
No, why did you ask?
But you recently did something with Shakara?
Well it was really not modeling, it's more or less an endorsement. A clothing line that is fine.
Who is Blaise?
Blaise is a conscious musician, who seeks to express her conscious side, her poetic side, the music side, more or less influence her society in a positive way through music.
How did you come about the name Blaise?
Well, it's just a name that I picked up from a character in a movie, also a character in a comic. I just like the word Blaise, Blaze as in fire. They are just spelt differently.
Apart from endorsements and music, what other things do you do or would you want to pursue in the nearest future?
Well, I am already doing everything that I want to do. Maybe I am not doing it on the level that I want to be doing it right now but what I really want to be doing is this music and my company, the beat seller is also a production company. So, definitely I want to pursue production and take it to the highest level that. So, that's basically it.
Tell us about your company?
It's a production company that plays three different roles. It is a production company and also an event company. It's all about entertainment. I launched it in 2007 and started all the activities related. I started my music career as Blaise and the first artist on my own label and I started my production that year. I worked for MNET, I worked on the Virgina Monologue and several other projects like that. Later, I did the artist showcase to launch the event arm of my company which is Blaise Line.
Are there other artistes on the label?
For now, I am the only artiste.
So, should we expect Blaise going into architecture in the nearest future?
Well, the only thing close to architecture in the music that I am doing right now is acoustic science and studio designs. I have always like studio designs and acoustic science. So, maybe my company may be doing something like that in the future, no one knows.
What would you like to say to your fans?
Well, they should look out for me, look out for my album because my work is different and fresh.
How do you intend to cope with the Nigerian market since Poetry and rap are not well accepted as that of the hip hop?
Well, you are right to say so but I am not afraid because rap is actually poetry. It is just rhythm and poetry, that's all it is and if you take away the music, the beat and all the you will have is poetry. So, I think it is another way for me to broaden the horizon. As it is, Nigeria music is very linear, everybody is just doing hip hop. Even if by doing spoken poetry or by beaming light on spoken poetry I can create some kind of diversification, my work will be well done.
At least, there is another niche to look at besides hip hop. So, I don't mind, I am not afraid, I think it's a step worth taking. It's going to be good for the music industry. It's going to be good for the future of music in Nigeria, so it's a step that is worth the risk.
So, you are not considering the commercial side?
I have been considering the commercial side for years up till now and it didn't lead me anywhere. It's all a gamble for everybody. Not everybody who is doing music commercially has hit it big time. So, it's a gamble for everybody. If you are doing something one way and it's not working, then you need to change your tactics. But lucky enough for me, I have more than just rap to offer.
So, there is no saying that it's not going to be commercially successful. It's an experiment and I really have faith that it's going to be successful.
What do you think you have that makes you different from other female rappers?
Even the male artistes that made it big in the industry I am willing to bet it that they didn't have a formula. So, nobody can say it is this song that will make me make it big time. So, the success of these successful musicians has to do with luck. I don't think they actually set out in their minds to say that this song or this particular album will be hit for me. We all work hard and hope for the best. So, I am hoping that my album will be as successful as other artistes.
Even on the international scene, it's not as if the women make it big, how do you intend to make it big?
If you put it that way, then I don't know what the mystery is but like I said, we just hope for the best. I don't know what the reason is, I really do pray that it doesn't go that way for me then you can ask me that question on the other side of success, then I will tell you what I did differently.
How long are you willing to be in the music industry?
Well, music is my life. I put architecture aside for it so I must have a good reason for that. Architecture is doing well right now, so for me to put something that's more economically viable to pursue music says a lot about my passion for it. I want to see it to a very good place. I want to see it bring me the kind of success I imagine. I am in it for as long as God gives me life and strength to keep on going.
How would you handle your matrimony with your career?
Well, it's unfortunate that it's that way. I think that there are lot of traditions that needs to be revised as they were because this is the way I see it. If you are created to do something, you don't have the right or nobody has the right to tell you to stop doing it, whether it's culture, whether it's your husband or whatever. In fact, if you get married, your husband should support you to be that person that you are aspiring to be. So, it's unfortunate that that's what happens because some people believe that when they get married, that is the end of the line for them. I have prayed that God will not give me a husband that will lock me up and not allow me to be the woman I want to be.
So your kids can go into music if they so desire?
Yes, they can but at the same time I don't think it's enough reason to stop you from being the person you want to be. We all play different roles in life. For example, a man is a father and husband but it doesn't stop him from being whatever he wants to be.
Yes, a woman most carry her kids and raise them but to a point, I believe that this is what am in to do aside of being a mother and a wife. I don't believe that there should be any obstacle while I look forward to my motherhood age, I also look forward to making music for as long as God gives me life. So, I pray that one doesn't take the other away from me.