British-Born Nigerian Claudia Aderotimi dies after butt enhancement surgery.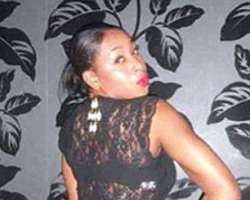 Dancer Claudia Aderotimi believed 'bigger booty' would make her famous
She was dumped from music video for wearing bottom-padded trousers
Police quiz woman who carried out the procedure
Procedure used 'industrial' silicone and cost up to £2,000
Surgeon fled hotel where Miss Aderotimi had op after she fell sick
Claudia was a 20 year old student and dancer who thought enhancing her butt would make her more attractive and get her into more music videos.
She traveled to the US to do the surgery and developed chest pains and struggled for breath for 12 hours after she had the illegal silicone injections at a budget hotel. She was taken to hospital but could not be saved.
A preliminary examination found the silicone filler had leaked into her bloodstream, leading to heart failure.
American detectives are investigating whether she was treated with cheap 'industrial' silicone, normally used as a sealant, rather than medical-grade material used in breast implant surgery.
It was not the first time Miss Aderotimi had had the procedure. She is believed to have been treated in November and the latest injection on Monday may have been a 'top-up' procedure.