AGE FALSIFICATION: PARENTS TO FACE PROSECUTION -ADEDOJA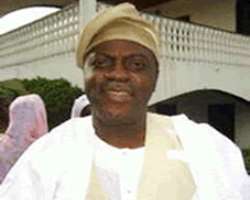 Parents who may like their children to wear national colours will hence forth do the proper age documentation or face prosecution by not performing their duties. Disclosing the new stand, Sports Minister and the Chairman National Sports Commission, Professor Taoheed Adedoja, while speaking in Abuja said that the measure was a part of the new policy by the Sports Ministry to meeting up with the millennium development goal, which sports was an integral part.
He said that as a measure to stop the age cheats who had placed Nigeria below other countries in the international sporting calendar, all hands must be on deck to stop the ugly trend.
'The way of stopping age cheats in Nigeria is an easy thing as far as I am concerned.We want to built a data base from primary to secondary school levels and these records will be there for future use.'Parents and guardians must face prosecutions after presenting false age of their children'.
Speaking on the motivational aspects of national coaches and athletes, he said that it became obvious when he made it clear that Nigeria coaches got nothing from their work. He said his administration would put a structure on ground to restructure the wages of athletes and coaches.