OKPALA, NECO REGISTRAR, TELLS NIGERIAN INVESTORS HOW TO MAKE MONEY:..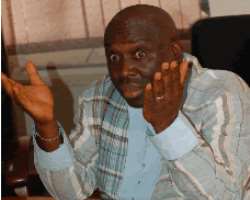 •Okpala
Professor Promise Okpala, the Registrar/Chief Executive Officer of National Examinations Council (NECO), in company of some of his officials, on Tuesday, January 25, visited the corporate headquarters of The Sun Publishing Ltd, Lagos, as part of his tour of media houses to enlighten the public on what NECO is doing to win back the confidence of Nigerians, especially in the face of mass failures that have characterized its results in recent years. Okpala who was received by Mr. Tony Onyima, the Managing Director/Editor-in-Chief of The Sun, Mr. Femi Adesina, the Deputy Managing Director/Deputy Editor-in-Chief, Mr. Steve Nwosu, Editor, Daily and other editors of The Sun, also used that opportunity to solicit for help from the media. During the visit, he fielded some questions, in which he, among other subjects of discussion, talked about the conduct of exam and release of NECO results, exam malpractice and the e-exams which he said would remain a mirage unless the nation addresses its power crisis. Most importantly, he talks about building of exam centres by individual entrepreneurs, a novel idea that many investors can benefit from, given the number of students that sit for exams every year.
Excerpts:
There is this confusion among students concerning WAEC and NECO exams. Must a they write the two exams?
No, they are equivalent exams. It is just that they now have increased opportunities. Naturally, somebody who had taken two equivalent exams that can serve the same purpose stands a better chance. You may not be at your best on the day you are taking a particular exam, so if you are exposed to two equivalent exams running basically the same syllabus, the society is likely to see a clearer picture of yourself. When people of my generation had the opportunity, it was basically WAEC. If you wanted to try a second exam, you must take it as London GCE. You will even wait till after three or four months to take it. So, we consider this group luckier than the people of my set.
One would have preferred to be exposed to two equivalent exams almost at the same time. It increases the chance, especially where such exam results are utilized in entering the university or seeking employment in the world of work. It is either this or that, not a must that you will write the two exams. But I feel that the society is trying to utilize the wider access being provided to people of this generation. And it is encouraging that they should avail themselves of that opportunity in order to avoid the probability of making mistakes in one exam.
What is your reaction to reports of some universities that discriminate against NECO results?
There is none and there had not really been in the past. The Federal Government of Nigeria legally established the National Examinations Council. Practically all schools in the country are under the control and supervision of the federal government. The school belongs to the society whether they are private, public or faith-based schools. The government represents the people. It is unheard of that a legitimate government will establish an examination board and a school refuses to utilize the result. To the best of my knowledge, in the past five years, there has not been anywhere or any institution that discriminated against NECO results. If you think otherwise, you can give me an example.
When something is new, there is this tendency of questioning its quality. There was a time I was discussing with my late father. His own concept of O'level exam was London Matriculation. When WAEC came on board, many Nigerians at that time were also imagining if it would be as good as Cambridge or London exams. So, WAEC, of course, naturally passed through that process. For people of my generation, O'level signified WAEC. You can imagine what will happen in the next 30 years. Practically every working adult in Nigeria, since NECO started around 2000, so, give it 40 years, and you will see that to them, O'level exam is NECO.
In African sub-region, does WAEC certificate have superiority over that of NECO?
One would say the answer is really 'NO', considering that beyond the sub-region, in Russia, Slovakia and other areas, a student seeking admission in a higher institution will submit a transcript and it would be cleared. If you want to be admitted to a university in Australia today and you submit a result from UNILAG, they have to clear it. Over there, 99 per cent of the people do not know anything about UNILAG. When you submit the result, they pass it through the education attachés of that country if it is something they cannot interpret. A good number of them will ask you to submit a transcript that is beyond a certificate. Some of them will even demand more. Can you submit the syllabus of that exam and samples of question papers. All these are in a bid to enable them to interpret what you have brought and place you appropriately. Where they can't, they consult the educational attaché to contact the one in your country for them to write to them without your knowledge. So, it is a common practice worldwide. It is different if that particular country is involved in the exam. For instance, Ghana is involved in WAEC, if you are seeking admission over there, they don't need to look for unnecessary interpretation. They can easily decode its result themselves. If you are going to Thailand, they will make other enquires if need be. Day in, day out, we have Nigerian students in Russia. Universities over there send messages for the attaché here to interpret the level of certificate.
The idea in the beginning was for government to give NECO some subsidies to make the forms cheaper to candidates. Is that still the practice and if so, how does the funding run?
Government does not subsidize NECO exams directly. Unless you mean that government pays the salary of NECO staff as subsidy. If we restrict subsidy to the fee the students pay which we are supposed to really use and run the exam process, then I will tell you no. But remember that NECO staff members are government employees. NECO is a parastatal and so, salary, retirement benefits and every other thing that accrues to Nigerian workers is also applicable to NECO staff. We don't pay salaries from the N5,600 the students are charged. We don't make profit. There was also other issue where they wanted to classify us as a business organisation and we said no. We don't make profit. We are not a business organisation. We are not charging economic rate of conducting that exam. What they pay really is what we consider as social cost. So, we don't really make profit at all. We don't.
There was this impression that there was so much money at NECO, stealing of fund, a situation that brought the EFCC on the heels of officials. How did all that come in and how did it play out?
Perception of people is different from reality. And in most cases, you find the press reporting sensational news. Reporters fail to embark on investigative journalism. He stays somewhere and writes something while he never visited the place. He will only say that attempts made to reach the person failed. That is not the best way of carrying news. That is reporting one-sided story. There is no fairness in it. We are not in your profession but we felt that, that is not the best way of carrying news. It amounts to misusing an opportunity the press has over the ordinary members of the public. What we are saying is that there is a specific fee that is paid and this is open to the public.
We advertise it. Walk into any secondary school and they will tell you how much they are paying. Our fee for this year's exam is N5,600, irrespective of whatever any school principal must have built into it. But that is our fee for this exam. If you do selective checking of schools in any particular state, you may realise it may not be that. When you look into the process of conducting exams which many people are not conversant with, you will see that NECO is a 39 -day exam. Within these 39 days, you need to see the hundreds of people in motion. We use about 370 vehicles. These vehicles, less than 100 are marked vehicles that belong to organisations like NECO, INEC and others. About 270 vehicles are hired and we use about 18 boats to reach secondary schools in all nooks and crannies, about 12,600 secondary schools. Let's take a cue form ordinary election day. To reach these schools and be in operation with 370 vehicles for 39 days costs a lot. We take over 30 subjects. Most of these subjects are in four variants, the essay, multiple choice, practical and oral tests. You can see the quantum of question papers.
Another thing people don't appreciate so much is that when you are printing sensitive documents, the cost is different. The truth is that the Nigerian public who is already used to concept of free this, free that, may not appreciate the task of conducting a large scale public exam in a geographical terrain, where secondary schools are located even in the most remote villages. And these things must be done, backed up by hi-tech, results released in good time and leakages prevented as much as you can, definitely, it is not something you can do with N5,600. But what many people normally do is to multiply the fee with the number of candidates and question what you are doing with the money. Everybody can pick a calculator and multiply but they will not bother to look at the aspect of the operational costs. When NECO came on board, there was an understanding that there would be a matching grant. That is for every candidate, it is like government determining what we charge. There was an understanding that for everything we charge, government will match it. But that matching never materialised. And we cannot say we cannot go on. It has been really a problem. The real economic cost of conducting this exam is over N9,000.
How does the organisation survive then?
In most cases, when we begin an exam, the fee is being paid into a particular finance house. We will be collecting as we are conducting the exam. By the time we are reaching something like analysis, you will realise that we have gone down drastically, however the finance houses are highly tolerant because the registration for the other exam must be starting. So, you see an interface of where an exam you started for the school exam, the other will start. It is like using the part of the incoming fees for this exam to tidy up whatever is left in the previous one. Like the exam we took that ended on November 15, marking is still going on, where as in this week, we have started fresh registration for another exam. So, if you are our major partner in banking, you wouldn't really bother us.
So, what this means is that you will be perpetually in overdraft?
The truth is that it is difficult to use that fee, if you want to conduct quality exam that we will all appreciate.
Why don't you make a case and charge the economic value for the exam?
We have tried. I started by saying that the Nigerian government of the past years has this posture of increasing access by seeing education as a social service. There is that posture. So, it is difficult to really say… it is like saying 'why won't you allow Nigerian public to pay commensurate school fees in higher institution?' That belongs to the society as the government of the day. We see what they pay in the universities. There is a limit to which you can make good soup out of nothing, no matter how good you are as a woman. There is a limit to which you can do that. If we are targeting, for instance, taking the posture of zero tolerance to malpractice, you will discover that malpractice acts are dynamic.
The students devise different ways every year. Our research unit will be devising different ways to be ahead of them. When it was clear that the exam body does not have a representative in the school, as NECO staff were not enough to be in 12,600 secondary schools nationwide, the best NECO staff can do was to man about 10 to 15 schools where principals from these schools come to the neighbourhood to collect answer scripts and question papers to examine the students and return to our staff. If you follow that procedure, it is like giving the school the unlimited freedom to conduct the exam. In Nigerian culture of today, it is not the best. Maybe 40 years ago, you can do that without any problem. When we noticed this, we adopted two basic approaches to minimise the negative impact of giving 100 per cent freedom. We went and dialogued with the Nigerian Civil Defence Corps to post uniform men, without arms to stay in every hall. But that arrangement wasn't free anyway. It is a government organ quite alright but they have to bring in their cost. You know what it will take to mobilise such number of people. We also made lecturers in tertiary institutions external monitors of our exams.
What we do now is to assign 10 schools to a particular lecturer. The duty is to visit these schools many times, at least three times, and then write reports and submit. These lecturers will go there and spend like one hour, watch the environment, ask questions and file their report. The other group, Civil Defence, is to stay at the back of the hall. Their own duty is to report according to the code of behaviour, like the time the exam started, checking of candidate's picture before entering the hall, the closing time for the exam, among others.
You can imagine the thousands of people in the field, including lecturers of higher institutions. But the advantages are numerous. It has knocked down stark mass cheating where somebody stands in front of the hall and dictates answers to multiple-choice questions. That is the pattern. When somebody is coming, they will delay that person a little at the gate during which time somebody will call the hall. Before you get there, they will all be like saints and wait for you to spend one hour, after which you leave and they continue what they are doing.
To save cost, why not computerise the exams?
Fine, I agree. That sounds beautiful. Nigerians don't lack ideas, it is the will power to implement them. Do you talk of e-exam where generator has been on here (The Sun office) for how long? Is that what we are supposed to be doing? Generator should be a back up, not a major power supply. Like Dangote was saying that if only they guarantee regular direct electricity, the price of cement will go down by half. How can we be talking of electronic exam? The proposal is straightforward, but it can only work in more organised society where infrastructures are available.
To do electronic marking, we can say that in terms of organised computer education outfit, if you come to NECO and see our computer section and what goes on there in mechanised scoring, you will admit within Nigerian context that we know what we are doing. The fact that JAMB released its results in good time in the past four years was a NECO concept, which started for the first three years. It was only last year that JAMB did the scoring. In the past four years, we looked at the entire scenario and moved in a proposal that suggested we could handle it more beautifully. So, for the past three years, their questions leave their centres and moved straight to our computer unit. After doing it for three years, they ran it last year. The point I am making is that what goes on in e-marking, we are trying to do a miniature study. What it requires is the capacity, something like the answer script, you scan it and teachers will mark it. What this requires is that teachers and students must be minimally computer literate.
The examination centres must be there, well equipped. Many schools are still treating computers like special instrument. So, if it is in terms of bringing a proposal for e-marking, we can do that. But who finances it? Who will have the will power? Then allow us to take the cost directly from the public and they say, no. What people are pushing now is for individuals, if possible, in every LGA to build examination centres. If you go to Ibadan, they build entertainment centres where people do their wedding receptions, parties and so on. Let people in every local government build examination centres and equip them with basic computer facilities, such that schools can come in turns to write their exams. There are so many advantages of going maximally electronic. This is one of the few countries where the higher you are going, the less they want to pay. Nigerians want to pay less as they go higher the education ladder.
They pay more in primary and secondary schools than in universities and polytechnics. Yet, we want the best. The will power is for parents, all stakeholders, and not only the government. Why should a father be paying N20,000 in the nursery while his son in the university is going on strike why he should be allowed to pay N10,000. If you ask him, he will tell you that Zik went to school free. Why should he pay? During an education summit last week, somebody raised a question on how to generate fund. My group moved in a suggestion for a graduate tax. That is, every working Nigerian adult, who had benefited from higher institution or the other, should pay a little amount monthly as tax. Once the person is employed, whether in a private or public sector, he should pay. That is how education tax fund started in some countries and it is helping their academic institutions. The Nigerian public really don't want to invest in education. Even the graduate does not want to sacrifice even one naira in a month to support quality schooling. The ideas are there. But, if you have good proposals, how do you implement. Who takes the bill?
In the beginning, the impression was that it was easier to pass NECO than WAEC. But it seems that has changed. Or did you deliberately use that strategy to attract more candidates?
It was not really deliberate. What we really did was to study the exact process. When one arrived and started directing what happens in an establishment, I knew it was a five-year tenure job. I felt that one should use one year, no matter how managerial one was, to do a proper analysis of what has been going on there. Within that first year, we studied the whole thing. In the second year, we saw a lot of loopholes where we could improve. On the issue of having advanced knowledge of questions, I think we have curtailed it so sufficiently even if you go to staff and students in secondary schools, they will tell you it is not possible in NECO exams. We looked at points where papers could leak. For instance, our papers don't sleep anywhere. We do now what we call maximum daily distribution.
In Lagos, for example, when our papers come in batches, they can only be kept in the state office and no other place. We maintain maximum security there. From 4.00am, the papers begin to leave to a point where you will have NECO staff that controls about 10 schools in the neighbourhood. Prior to that period, papers can stay in up to three locations: in a bank, post office or police station. That was the old approach. Its sleeping point was a possible point of leakage. And we shifted our exams to 10.00am for fast vehicles to move. In the olden days, the rule then was that a candidate could come 30 minutes late into the examination hall. But we stopped it.
The rule now is that nobody is allowed to enter the hall when the exam has started. Look at this situation, if there is a local leakage which can occur when an invigilator throws out Mathematics question paper through the window, and there is nobody there representing us, they can assemble 10 professors of Mathematics in a room who will then solve the entire questions within five minutes. The answers would be photocopied and smart candidates coming late into the hall could carry it. You might be thinking that the paper leaked but it was the same question paper that was shared in that hall. The candidate comes in pretending to be late. Within 10 minutes, he will started distributing it in the hall. So, we brought in many things, including changing that regulation. A lot of things came into play and when you put these things together, it made us to provide a clearer description of the level of our students and that was what manifested.
The issue of mass failure
That chain started last two or three years. Like I said, in my first year, I was just a good observer of the system. By the second year, we made some changes to tighten up. The poor result is a last three-year concept. What led to it was because the more you have malpractice, interference, or whatever type of variable that is coming in, the less the quality of your description. If you really want to get a clearer description of our students, in terms of what they can do at the end of secondary education, then you must be prepared to knock down malpractice down to zero. You must be prepared to do a lot of things, and that implies conducting a very good exam. For instance, let the students be well spaced out in examination halls. Our schools are yet to have examination halls, and for most of them that have, they wouldn't like to use it during exams. Unlike what we know about more organized societies, like the United Kingdom, during exams, they collapse all alternate seats between candidates.
But here, you can enter the exam hall and see candidates sitting body to body because the school is crowded. So, there is a limit you can tell somebody not to look into another person's work. So, if really we can get the facility to conduct a real exam process, provide halls, let the students be well spaced, let there be somebody there to ensure that nobody dictates answers, what people are describing as mass failure will be even worse. Yes, basically because when you go to the schools, what happens in the classroom? I don't know how many of us will have their children in a typical public school. You don't need visa to enter the schools. Our own concern really is that the exam we are conducting is also diagnostic. It will help the practicing teachers, the policy makers and all stakeholders. That is why we have been battling in the past three years to come up with what looks like a real description of these students. When you look at those in higher institutions, any time Nigerians begin to criticize them on the quality of graduates they are producing, part of their defense is that it is garbage in, garbage out. So, the kind of people that are asked to teach contribute to the problem. So, how many Nigerians who have been getting 'A' in Literature or English can write a one-page essay?
What happens when NECO releases results on the website and candidates printed it out only to discover later that the results have been cancelled?
There was really a peculiar problem that year. The result was posted and the problem happened within three days. Within that period, the website had a shock and the whole posted results were mixed up. We moved in immediately and contacted those controlling the website from outside the country and the thing was rectified.
The people that checked their results that time had to complain. But we moved in and corrected the problem, apologized, produced a hard copy and requested that they should go back to the website. But at that point, you can now see the psychology of somebody, perhaps who was not even ready to pass the exam. All he was saying was that he has printed out something and that is what he is going to stick to. Every machine, every technology, by the time you operate it for along time, you begin to notice erratic problems. This is Nigeria where we can't even guarantee steady power supply.
When we hoist website, in most cases, we contact India or the United States. So, there are operational hazards. Yes, we had it. But there are still some who said they have printed out something as if it was a law written on tablet of stone. It couldn't have been. If you are working with a machine and there is a machine error, you have to acknowledge it and apologize. But the question is 'will you because of that machine error allow him to go with a result that is not his?' The answer is no! That was the real ugly incidence that particular year. That was the only year it happened. No degree of argument will make us to allow such candidates to go with other people's results. No, that is not possible.
Certificate forgery has become common. What measures are you taking to secure NECO certificates?
Really, certificate forgery is becoming a problem that is not just worrying only NECO but the entire education sector. We are now trying to increase the security features of NECO certificates. These certificates will now contain more than 13 security features. We have gone to get features as we travel for exam bodies' association. But, the one we are trying to get out now, it will be difficult to forge. It will be difficult to get it done. What we are trying to say is that it is really a problem. Many people working in Nigeria, not only politicians, are using fake certificates created by the roadside. If a public examination body is not sufficiently thorough about its certificate, that is maximum malpractice. A candidate will not even bother to go for the exam even. He will cheat you at the certificate level. So, we are really trying to see if we can come up with a certificate that will meet up with international standard.
Why does enquiries for verification of certificates from exam bodies take a century?
We have a unit that does that. We respond promptly to such request.