Meet Nigerian Idol Finalists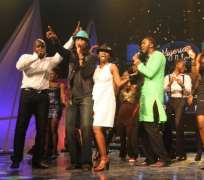 The 13 final contestants who will go on to compete for the top prize at the ever Nigerian Idol were unveiled at a star- studded cocktail event at the Dream Studio, Omole on Saturday January 29, 2011.
From now till the end of the show, all 13 finalists will live in an apartment and will be tutored by a professional group of music instructors whose job is to polish the contestants and make their songs ready for public hearing.
Here they are
>

AJ
23 year old, Ajumoke Nwaeze in 2008 with 5 other guys won the 2008 edition of the talent competition known as Star Quest under the group name of Diamondz. After their success at the competition the group went ahead to release an album. AJ left Diamondz in 2010 based on the fact that she 'wanted to find herself'.
A student of Genetics and Bio Technology in the University of Calabar, AJ confesses that she was heart-broken when she was first evicted and was beginning to move on with her life when she got the call to come back to the show. Now that she's back, she is aiming for the greatness which eluded her as a suppressed member in her former band.
>

ALEX
Alex's place in the top thirteen is one bought by chance. He had the third-highest number of votes in his group of ten which meant that he would not make it to the final stage. However, prior to the eviction show, Ken, the contestant who won the highest number of votes, had decided to drop out of the competition to accept his admission to a Master's degree programme in the UK. This catapulted Alex into second place and automatically into the top thirteen. However, Alex does not consider this surprising twist as a lucky break but as scenario 'pre-ordained by God'
As a boy, he spent five years immobile on a hospital bed due to a strange infection in both of his legs. During this period, he was told that he would lose at least one of his legs. Today he not only has use of both his legs, but also is a member of a dance group.
A fairly reserved person, the twenty-five year old RnB crooner is more animated when he is on stage. Singing, for him, is a form of expressing himself. 'I feel everything I have to say, the story of my life should come through music', he says
>

BIBI
Biodun Bello aka Bibi comes from a family of singers. Although a member of her church choir, she never took music seriously. She came on to Nigeria Idol thanks to encouragement from her friends. The Law student from Igbinedion University intends to continue singing whether she wins Nigerian Idol or not.
Bibi's best friend Glory is also part of the top 13. Bibi is open to the possibility of either of them winning the show and does not feel that it would affect their friendship adversely.
Although she has been told by others that her biggest threat in the competition is Glory, Bibi believes its AJ.
>

CHITO
Chito is perhaps the competition's most colorful and vibrant contestant. The self-confessed tom boy who has a lot of scars to show for it, says that she is more of a rapper than a singer.
Her energetic persona and performance on stage not only got the attention of the judges but that of award-winning Nigerian female rap superstar, Sasha P who endorsed Chito via her Twitter account. Despite her beautiful performances she got evicted from the show but was called back as a wild card contestant.
Now back in the competition, Chito says she is aiming to win Nigerian Idol because it will serve as a platform for her and as a means to help people. One of her targets in life is to become a successful talk-show host and in her own words 'give Ellen Degeneres a run for her money'.
>

EMMANUEL THE GREAT
If you describe Emmanuel Patrick fondly called Emmanuel the Great as a church boy, you won't be wrong at all. Emmanuel can't remember the number of churches he's been a member of, and sang actively in their choir, in his young life!
An ex-student of St. Gregory's College and a 2006 sociology graduate of Olabisi Onabanjo University, he doesn't see any contestant as a direct threat to him because all the contestants are unique in their own way and goes further to describe them all as "all brothers and sisters." He says he's not seeing anyone at the moment but reveals he is working towards a relationship and has a lady in mind who he avows is not in the competition though.
>

GEORGE
George's interest in music started from when he was a child. He learnt to play the piano at the age of nine and it has since become his passion. As a youth, he joined his choir and from there decided to go into music professionally. However, in spite of his love for music, he went on to study Environmental Management and Geography at the university because of pressure from his family.
He considers himself a songwriter as well as a singer and writes and plays his own songs on the piano. For him, being in the Nigerian Idol competition is an avenue to express himself and display his talents.
If he wins the competition, he intends to invest the prize money in developing himself, but most importantly, he plans to continue in music whether or not he wins the Nigerian Idol. Although he expects to win, he sees the possibility of a girl going home as the Nigerian Idol.
>

GLORY
Glory, a 22 year Law undergraduate at the University of Abuja did not just stumble into music. Her parents met and got married as members of the Deeper Life Church Choir. So it is not much of a surprise that she started singing in the Deeper Life Children's Choir at the tender age of 5.
Glory has a passion for people and helping them gives her joy. That is why she chose to study Law. In her 300 level now, Glory can hardly wait to complete her education so she can help people.
Glory was born and brought up in Abuja. She sees no fellow contestant as a threat in the competition, not even her very close childhood friend Bibi.
>

NAOMI
Naomi might be the youngest contestant in Nigerian Idol now but her confidence and carriage doesn't betray her 19 years of age. Born and raised in Ajegunle, the smallish singer bashfully confesses that she has never been to her home state of Bayelsa.
She started singing at age 7 when she and her sisters formed a group. The group of sisters started singing in their church and later in other churches in other states.
On being on Nigerian Idol, she feels great and honoured to be part of the epic music reality show. 'It's like a dream come true for me', she says as she tags her most memorable performance as the one where she had to dress like a guy so she could perform an R.Kelly number.
>

NINA
Unlike most of the other contestants, Nina has a background in dance and not music. She has been a dancer since childhood and was a member of a dance group in university. The group also incorporated singing in their performances. This was how Nina discovered her singing talent and decided to take it more seriously in her final year at the university.
Nina is a lawyer and she plans to practice much later in life. But right now, she intends to focus more on her music career
>

OLA
Ola is the group's 'king of cool'. The 22 year old undergraduate claims that even though he is the first to sing professionally in his family, his family members are involved in music, whether singing on an amateur level or just appreciating good music.
He can't place his finger on a specific time in his childhood when he started singing but he states that it has been as long as he could remember. Prior to Nigerian Idol, his singing had never been judged before. 'Facing judges and a critical audience has been he says good, scary and exciting', he explains.
Despite the aggressive nature of the music industry, Ola doesn't intend to change his laidback personality to suit the industry. He believes instead that the industry will get used to and appreciate him.
>

TONI
Toni is one of the lucky three who got called back during the Wild Card episode of the show. Apart from being a singer, she plays the guitar and writes her own songs. Her mature vocals and stirring interpretations have endeared her to the judges especially Audu Maikori who has been her champion and the speculated author of her comeback to the show.
In 2004, Toni recorded a self-released album and even shot a video, an event which although it gave her some exposure, failed to shoot her to the limelight or earn her a record deal.
She says that although she has gone through a lot of struggle stemming from the death of her father at an early age, an event that led to her and her mother being chased out of her family home, Toni says is thankful that these challenges rather than break her have helped to make her stronger and determined to succeed in life.
>

YEKA ONKA
Onyeka Gilbert looks like a model straight from a fashion magazine. She was once crowned Queen of Abia at a beauty pageant in 2006. Winning the beauty pageant opened up a lot of doors for her but according to the tall, dark beauty being the Queen of Abia didn't really pan out well as she expected.
Her real passion in life had always been music. From a tender age, she had been singing with her family band. The band's work however was put on hold indefinitely with the death of her mother in 2001 and then fully so when her father passed on 5 years later.
Yeka's confidence was not dented by her orphan state. Rather than accept 'no' from the Idol judges at the audition stage, the 26 year old beauty embarked on an 'Idol mini tour' that took her from Enugu to Calabar and finally Lagos where she eventually got her 'Yes'! With that mentality she is giving Nigerian Idol all that she's got.
>

ZOE
Zoe started singing from her church and has been a member of her church choir from childhood. She has not ever had any professional training in music.
She joined the Nigeria Idol competition because she wants to explore her talent. According to her, the experience so far has been great. "I have learnt so many things from our coaches, the judges and my fellow contestants," she says. "It has made me more hardworking and I relate with people better."
She attributes her presence in the top 13 to favor from God as there were so many of her fellow contestants who were equally talented or better that did not make it. If she had to pick the three contestants for the Wild Card, she would have chosen AJ, Rachael and Leonard.