Star actress, Stella Damasus is in a fresh romance with Mofe Duncan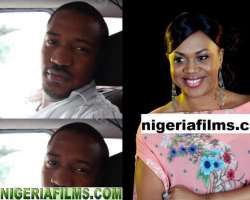 This is less than a year after her short lived marriage to Emeka Nzeribe hit the rocks.
Her latest care giver is identified as Mofe Duncan.
He is listed as a man about town based in Abuja.
He is further tagged as into the world of production (the organisation and supervision of the making of movie, broadcast or recording…), with a sister as an Anchor person in a radio station.
Stella and Duncan are said to be very careful about making noise about the relationship.
Despite this, insiders claim they have attended a couple of events under the pretext of being just friends.
The most popular of these occasions is identified as the celebrated wedding of Olumide Akande and Dakore Egbuson.
Both Mofe and Stella reportedly arrived and left the reception held at K.F.A Events centre, Lekki Lagos together.
Whether this latest romance would lead to the Alta is not sure yet.
Those close to Stella however claim the actress does not appear to be in a hurry to rush into matrimony again.
Friends maintain her short lived matrimony with Nzeribe- after a brief courtship is responsible for her new stance about marriage.
Though it's not clear what really led to break up of the marriage- insiders cite lack of proper knowledge of each other's way as the origin.
Stella Damasus is the widow of late entertainment figure and friend of many, Jaiye Aboderin. She surprised many by remarrying four years after a couple of rumoured romances after her husband's death.
Shockingly the marriage barely lasted months and now she is said to be back again in love with Mofe Duncan. Stella has two children, Isabella and Agelica (both from her marriage to Jaiye).
Reacting to the development via text message, the popular actress maintained 'it is a free world'
However in the message that has a hint of anger, she wondered why it is only her romances and not other achievements that are usually celebrated.
SOURCE:high society magazine.