My first big break was translating Osofisan's work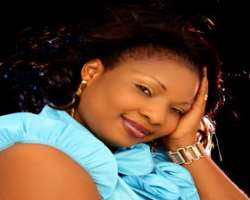 0Laide Bakare-Okunfulire is a well known actress who started plying her trade over a decade ago. In this interview with BUKOLA BAKARE, the "Ijo Ya!" lady, who has carved a niche for herself in the Yoruba genre of the industry, discloses that her first effort as a producer with the movie, Ewe Oju omi, was an adaptation of Restless Son Of Locust, written by her former lecturer, Professor Femi Osofisan.. Excerpts.
How did you get into acting?
Immediately I finished my secondary school. I made some contacts with some actors in my father's hotel and it was about the time that we were planning a surprise birthday for my father so we all went to the hotel to hold a small birthday package for him. On getting there, I met some superstars at that party.
Who were the superstars at that time?
They include Peju Ogunmola, Sunday Omobolanle (Aluwe),Yomi Ogunmola, Lere Paimo (Eda) and a host of others. Among my family members, I seemed to be the friendly one. Actors came to my father's party and from there, one of them told me that I had a nice face and all that. Prior to that time, my Dad used to travel a lot and he would bring in cameras that people would come and rent for party occasions and movie shoots. One of them told me, 'this is one of the cameras we shoot movies with' and I was fascinated. From then, I began to think that if I joined these people, I would be able to shoot my own movies. My parents made me realise that I had to study. I gained admission into the University of Ibadan to study Theatre Arts for my first degree and the University of Lagos to study History and Strategic Studies for my second degree. All these while, I 'd been acting since I came in contact with Muka Ray and my first film was Adeyemi. For me, it's been a good experience and I am happy for what I have achieved so far.
How has the journey been since you started?
I have been acting for over a decade. For me, its been so enlightening, fun and worth my while. Acting has given me a chance to see beyound my environment. I have met a lot of people and I've been priviledged to travel to a lot of places. As I said, I have been acting right from my secondary school days and even continued throughout my first and second degrees, youth service and even after marriage. I feel with time,what one has been doing for that long and you are still doing so well and people still want more from you, I think it's what God has ordained me to do and I really thank Him.
How would you describe your family?
Well.. I come from Ibadan, Oyo State and I've been living in Lagos for as long as I can rememeber. I was born and bred here in Lagos. My father is a philanthropist, he is industrious and rich. He really encouraged me. I am the only one among my siblings that loves acting but I am not the only one in the entertainment industry.
Who else is involved in the industry?
My younger brother, Olumide aka AK1 is a music director. So, for me, I think art just runs in the family. Growing up for me was really fun. We are five girls and just a boy.
He must be very spoilt then?
Oh Yes. My mother is so friendly and we relate like friends because there are so many ladies in the house. That bond has been there since we were little. My Dad is not a very strict person that would want you to sit down from morning till evening. After our secondary education, my dad gave us ample opportunity to mingle and go out. We had to process our admission ourselves.
In other words, your father didn't want a situation where you got favours because of his name?
Yes.
Having studied Theatre Arts in school, one would have expected you to further you studies in that line. Why did you opt for History and Strategic studies?
(Cuts in)I want to do some other things which I don't want to talk about now.
What was the first movie you produced?
My first major movie was in the year 1999/2000 and it was titled Ewe Oju Omi. It was an adaption of Restless Son of Locust, a play by Professor Femi Osofisan of the University of Ibadan. He was one of my lecturers while I was there. I approached him. I had earlier done some stage plays which include Yemoja, Lanke Omu, The Sisters by Dr. Ahmed Yerima, Restless Son of Locust itself, Trials of Brother Jero and a host of others. The movie raises a lot of emotions about when children of opponents fall in love. For instance, you can imagine Governor Fashola's daughter and one other Governor's son in love and because of their father's position, a lot of things happen around them. For me, I just loved the story and we translated it to Yoruba.
How was it translating the play, didn't it lose substance during translation?
Not at all. I have a colleague, based in the United Kingdom, he's Demola Aremu. While I was still an undergraduate, he was doing his Masters so he was the one who translated the play to Yoruba. Professor Osofisan was so happy and commended us as good students. I financed and produced the movie with my Dad's support. Ewe oju omi was released and marketed by Corporate Pictures. That was a big break for me because quite a number of ladies were in the industry and they didn't have that courage to produce a movie. So, that gave them a sort of inspiration to begin to think that if Laide could do this at an early stage, it means they could too. I am always happy when I look back and see numerous producers tell me that my movie was an eye-opener for them and I sort of woke them up from their slumber. Afterwards, I produced 11.45, Adun Ewuro, Olatokunbo, Oladoja, Ijo Ya, Omo Meji and what I am promoting right now is Demilade. I still have Omolara and Ileke coming.
Have you at any point thought about being a cross-over artiste?
Oh Yes, I feature in English soap operas and I have even produced one of my own. The reason I feature more in Yoruba movies is because the producers tend to like you more. However, if people from other genres of Nollywood call me, I won't hesitate to answer their call.
Where do you draw your inspiration from?
I draw my inspiration from things that are happening around me, the society at large. You know, Nigeria is so big with diverse cultures. So, my environment inspires me a great deal.
You are also a wife and mother. How do you cope with the home front and the demands as an actress
By God's grace, I have a very wonderful husband, Olumide Okunfulire. So, a lot of people call me Laide Bakare OK (a short form of my husband's name). He's very understanding and knows what I do. He's exposed and knows a lot about Hollywood and Nollywood as a whole.
Doesn't he feel uneasy when you do intimate roles?
He understands the trade and knows that it's not a big deal. It's part of the job.
Can you recall any embarrassing moment you've had?
The only thing I can remember is that when people see me, they feel I'm a very tall person and exclaim "Oh, so you are this short!"(chuckles).
People have this notion that there are caucuses in the Yoruba movie industry, mainly Odunfa caucus. Does this trend help?
For me, I'm not in any caucus and was never in one. You see, that's why it is good to be educated. Orientate and upgrade yourself, so you won't have a narrow and shallow thinking, that not until you are part of a particular people before you can be successful. Peharps people train under some persons because they cannot afford to go to schoo. But all the same, I think it's still okay. After all, it's theatre. If you cannot acquire the knowledge formally, you can always acquire it informally.
Piracy is one thing that has eaten deep into the industry. Do you think that we can curb it?
It is affecting the industry so hard and it is really unfortunate when you have people who know about theatre and know what is going on around the world. So, why would piracy be so hard to minimise in Nigeria? It's just because they've neglected the issue. The practitioners that move round to do one or two things to curb it are often being battered or harmed when they get to Alaba where these people are. I think it is really government that can help and we need lawmakers to sponsor a bill at the Senate so that piracy will be regarded as a criminal offence with severe penalties attached to it. There is no way you can convince people not to buy pirated movies because they feel it is cheaper. When you can buy 10 movies for N250, why would you buy just one for the same price? However, people need to be sensitized so that they will only buy original copies of movies. Maybe, we need prayers or other forms of intervention like a miracle, I don't know because one way or the other, I think it's seeming like nothing can be done for now until that bill is sponsored and government comes to our aid.
Which of your films would you say made you popular most?
Honestly, I don't know because I have done a whole lot. When I started out, it didn't really dawn on me that I was starting a career., it was like a part-time thing. I just felt that I was through with secondary school at the time and didn't have to wake up at 8am and come back at 4pm. I wasn't doing anything, so I just felt like having a part-time job. However, I think Ojo Eye by Rotimi Makinde was one film that made me popular and it actually won me an award, THEMA Awards' Best Upcoming Actress and after that, a number of awards followed such as The Afro Hollywood Award as well as that of City People.
What career choice did you have in mind back then?
Well...I have always liked the entertainment industry and television as well. Perhaps, I would have been a reporter. You know, my dad used to travel a lot and when I watched television and watched reporters reporting from various parts of the country like Abuja and Port Harcourt, I was fascinated. I wanted to be a television reporter, moving from one place to the other and meeting the President to interview him.
At what point did you have the conviction that acting was going to be your career?
Believe it or not, but I'll say as recent as four years ago. While I was in school, my parents were taking care of my welfare, even if I still got some money from the entertainment industry. I still felt something was missing; that I had to acquire education before I could decide on what to do so. It wasn't until after all these that I decided to become an actress. I didn't know people were watching me and I was sort of entertaining them.When people began to see me, and exclaimed that they had seen me in a movie, it began to dawn on me that I was becoming a movie star.
Why is that most people think that with the acting profession, there's no need to go to school to acquire education?
If you ask me, I think things are really changing. Gone are those days when you had hoodlums and riff-raffs in the industry. That has become a thing of the past. I can tell you now that in the Yoruba genre of movie making in Nigeria, I can boldly say that there are more graduates in the profession, even the new ones that are just coming up are either in school or aspiring to go to school. Maybe there were some other times when people that were supposed to be in marketing akara or garri were in the industry. Maybe we just have one or two people in that category that made it to the top. These days, the least you will see is someone with an OND and even that person still has plans toback for further studies. I think we shouldn't limit it to actors and actresses alone. Often, you go to a bank and you are disappointed by a banker who cannot express himself. So, for me, I think it's every where and not peculiar to the movie industry.
Some actresses have alleged that they are often sexually harassed in a bid to get roles. Is that true?
I think its really annoying when some ladies say that they have been sexually harrassed. For me, I don't believe it happens and even if it does, I believe such victims created the atmosphere for it to happen and so, they will want to blame the men for doing such to them. As an actress, you shouldn't create the atmosphere to be harassed, your carriage and comportment matter a lot. Men are not stupid and they know those that they will approach for such nonsense. This is not peculiar to the movie industry. While I was coming in, I never experienced such and I have never seen anyone tell me such a story from the horse's mouth, I am not dismissing it but most of them are mere allegations. Let somebody boldly come out and mention people who have harassed her and let us act on it.
Ladies coming into the industry should be very careful so that they won't be prey for sexual harrassment. If you want to go for an audition, you shouldn't just walk around in order to make an impression. Do not hang around after the audition, leave. If they need your services, they will call . So, don't create the atmosphere and it won't happen. It is just so easy when a lady comes to a location and anxiety is written all over her face; that she just wants to act and won't mind if she is asked to compromise. We even have a lot of responsible men in the industry and some ladies actually throw themselves at them. We know in this world that there are more women than men.
Do you have any role models in the industry? Who are those people that you look up to?
For me, I respect my senior colleagues and because they are too many, I don't have one particular person that I look up and say that' I have to be like this person'.You know a particular actor may act well but does not have a good facial look. You may be so beautiful, yet your acting is very poor, so it depends. For me, I really respect those that have been there before me and I don't want to mention names because I don't want to feel that that person is doing so much and that's my limit. Not until we have actors like Denzel Washington, that's when I know that we have really arrived.
How would you describe yourself?
I guess, I am just me. At times, I find it difficult to describe myself because I don't trust myself and don't know what next I want to do. I relate with life the way it comes and take what it gives me. I just respond to it in my own way.
What should your fans be expecting from you this year?
They should be expecting my new movie, Demilade. And I promise that I will not disappoint them. I still have Omolara and lots more in the kitty so I will just tell my fans that they should expect a lot from me as I will never disappoint them.