Ibinabo in court for prisoners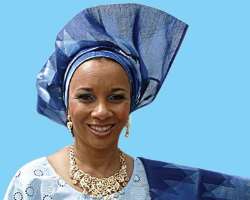 Regenerated actress Ibinabo Fiberesima who's since moved on with her life after her traumatic experience has returned to the Kirikiri maximum prison to extend a hand of help to the prisoners.
The actress, was in a Lagos High court during the week to demand for justice for two prisoners whom she said have been standing trial for the past five years without any evidence to persecute their cases.
Ibinabo, disclosed that she is working with a team of lawyers who are assisting her in pursuing this noble course. Already, according to her, she has succeeded in setting about two other prisoners free, as she hopes to set more prisoners free in future.
Meanwhile sequel to a duet which she did with Charles Granville on his new album 'Wired for Greatness" titled 'Look Within", the famous actress has finished recording her own single, which she titles 'Alright.'She said the single will soon hit the airwaves.
According to the actress, she decided to do this particular song because she's a testimony to the lyrics of the song.