At Last Actress Uche Iwuji Graduates!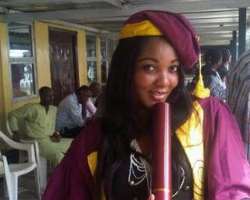 Pretty actress Uche has finally graduated from dramatic arts at the university of lagos after almost a decade of studying a four year course.
The actress who was before now battling a multitude of carryovers gave thanks to God via her facebook status message recently.
the status reads on friday January 21,2011
''.HAPPY GRADUATION TO ME PEEPS E NO EASY BUT I THANK GOD IS OVER NOW TO U LORD BE ALL THE GLORY''.
This is indded a miracle in the year 2011 for uche and i join in her thanksgiving song.please join in too.
''...oti se fu mi,o ti se fu mi.....''
I also hereby dedicate psquares song ''E no easy'' to her.
Do you have a song to dedicate to this lovely lady?...by all means do!