My poverty days are over — 9ice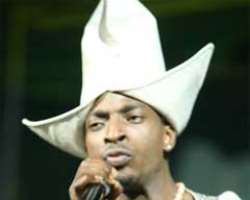 9Nice the Gonga Aso singer opened up to Entertainment Editor, Ogbonna Amadi on his travails as a man driven by a compassion to survive hunger and to succeed life.
He also spoke on his failed contract with Nigerian Breweries, his performance at the last Friday held concert for Mandela concert in London and more. It's a must read.
Excerpts;
It's nice to have you back in the country, when did you travel?
We travelled on Monday 23rd June on board Virgin Atlantic airline.
And where and when did the concert hold?
It was held on a Friday night, 27th June in London.
How would you describe your experience?
We arrived London on the 23rd and had our rehearsals on the 24th and 25th. It was actually a live band rehearsal and when I noticed some flaws, I decided to get some back up singers. I knew my song wouldn't come out very well without back up singers.
So I went in search of back singers amongst Nigerians living in London and who could understand my song. After our rehearsal I requested for passes for them to come on stage with me, but the stage manager said he couldn't offer anymore passes because he was done with it.
And that was how I ended up rehearsing that same day with the Soweto group. I taught them the notes of the song and they understood it. They were able to back me up
What was the feeling like?
The feeling was enormous and great because a lot of things that happened back stage which people didn't get to see. At the back stage, the artists had a room to himself. The room is movable, it's fully air conditioned and it's stacked with food, drinks and gym.
We also had make-up artistes attached to the rooms and so if you have need to change it was at your beck and call. I must say it was a really great experience and it was very different from what is obtained here in Nigeria.
How did you feel on stage?
When I got on stage I was a little nervous because half the crowd were white. But when I started I got encouraged by the whites.
On stage when I got hold of the microphone and shouted, 'people are you ready' they screamed Yes, it was all the encouragement I needed to begin my performance. I felt great having to perform with all those other artists from all over the world and having almost 100,000 people to perform for.
So how did the people react to your performance?
As soon as I asked if they were ready and I got a positive response, I let go my music. As I was singing, I noticed that six white girls in front of the crowd went horse riding on the shoulders of their boyfriends to hail my performance. I focused only on those girls throughout my performance.
What song did you come on stage with?
All the African musicians that came were given the opportunity to do only a song. I performed my favourite song Gonga Aso and after the performance the band I rehearsed with said it was the most challenging song they did amongst all other African artistes that came because most of those other artistes had foreign spices in their music.
After the concert, what was it like outside stage?
After the concert, I had the privilege of walking in the midst of the white people and with the team that took us from Nigeria to UK. While in the crowd, I was noticed and as soon as this happened, the crowd momentarily shifted focus from the Ugandan who was performing on stage to hug and shake hands with me.
They were all commending me that it was a good performance.
While you were in the UK, you were also supposed to perform for the Nigeria Breweries company, what went wrong?
Yes I was to perform for Nigeria Breweries. The performance was earlier scheduled for 23rd in Awka but for some reasons it was shifted for June 25th .
And when this happened I went to the EXP, the people in charge of the event and asked if there was anything possible to change the date of my performance. They told me there was nothing they could do.
So I wrote a letter to them telling them how important it was for me to attend the Mandela concert because I had committed myself into it.
Where you paid for the Nigeria Breweries deal?
Yes.
So what will you do now?
My manager has gone to see the EXP people and he was told that the person in charge was out of town. So we are waiting for the guy to return and until then our fate is in his hands.
How has your new found fame affected you?
It has affected me in so many positive ways because for a guy coming from a 'lower class' background, I have been able to convince people that good things still come out of the ghetto. I have been able to understand that if you have a dream and you are focused and disciplined, you will achieve whatever you want no matter where you are coming from.
I've also learnt so many things in life. At a time I was home for four years after my secondary education because I wanted to go the university. And within this period, I tried my hands on so many things.
We were poor and the poverty was so much that I thought there was nothing more to do than to hate God. I am a man gifted in so many ways. I was once a boxer, footballer and a writer.
But I also knew I was intelligent enough to go to university because I had friend who were in 200/300 levels in the university who will bring their assignment for me to solve and I did.
So virtually all the things I touched in the past went wrong except for music.
When I first started off in the music industry I didn't want to be singer. I just loved writing songs for people to sing but as God will have it, I'm into music full time now.
And your neighbourhood...?
The neighbourhood I came out from is one which I can never leave. I still go to my daddy's house even though I moved to my own house. I did that because I needed to concentrate more on my music and also for security reasons.
Daddy and I
Relationship with my dad was like that of cat and dog until my dad went to a place where he was told that I 'm destined to be great. He was warned to leave me alone and he did that.
How do your parents feel about you so today.?
Everything is okay now. I've been able to change their living style.
Artiste Fee
When I started fully as a performing artiste I started off by getting paid within the range of N100 to N200, 000. But all that change when Gongo Aso became a hit. The song became a hit because I promoted it my self.
And since the album was released during the festive period (December), I thought it wasn't time to bother people with politics, crime. It was celebration time so I had to look for something to go with the season. And that's why I left Street Credibility and focused on Congo Aso.
How true is it that a girlfriend outside your regular woman is pregnant for you?
Let me correct that notion. As far as I'm concerned, nobody is pregnant for me and no one is carrying my baby anywhere. I know that my girlfriend is not pregnant.
Stardom
Of course stardom is something that brings about a whole lot of things, a whole lot of people close to you. You see people that will just like you just like that and you don't really know what they want from you.
They just continue to attach themselves to you and sometimes you get confused about those that like you genuinely and those who do not. For me I believe I'm yet to get to where I'm going to and I wouldn't want all these things to pull me down. And I see this as a challenge that I've been able to conquer.
Do you have any collabos?
Definitely. I'll be doing more collabos. Before now I'd done more than thirty collabos and I'm also trying to do some on the international level.
Will you say you are now comfortable?
In Nigeria we are faced with a lot of challenges everyday, but now I'm comfortable because I can eat what I like and do what I want. From one square meal a day, I can now afford three square meals.
Yes there may be some aspects in life where you are lacking in your career but there are some areas where God blesses and you have to praise him for that.