Still No Apology For Battered Comedian I Go Dye After Jan. 4th Beating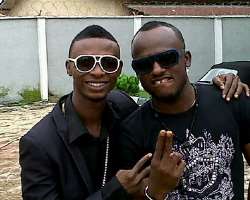 Comedian I go dye whose real name is France Agoda was beaten up (almost beat the life out of him) bad by military men in Warri at a rally at the Warri Township stadium, venue of Goodluck Jonathan-led Warri campaign for former Governor Emmanuel Uduaghan took place. He was said to have been so badly battered that he had to be rushed to an undisclosed clinic for treatment.
We are informed that they tried to force their way through the soldiers into the stadium, where the event was taking place as expected following the presence of the Presidency, security was beefed up and proper identification was required. The stern looking soldiers had reacted and descended on the comedian and his accomplice, I go Save – the latter was bruised. They were beaten blue black. Ali Baba – who was the anchor of the event intervened, threatened to stop the event but was rather late as I go Die, who was meant to perform couldn't perform as he was badly manhandled already by the security agents.
I go die demanded a public apology to be printed in a National newspaper and till date, no apology has been printed since the January 4th incident. The comedian has since been missing from the scene