MIMIKO AND OSHIOMHOLE MUST HEAR THIS !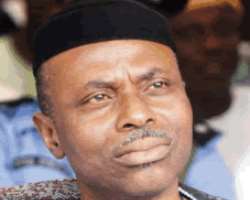 Mimiko
Olusegun Mimiko and Adams Oshiomhole are governors of Ondo and Edo states respectively. They became governors courtesy of the judiciary to the relief of Nigerians who believe in democracy. This crowd of Nigerians include this writer who see both governors as members of a new generation of transformational leaders. I have admired Mimiko and Oshiomhole right from their days as activists and armour bearers of the popular will.
It was therefore a rude shock to me when during the Yuletide, my family and I were assaulted by a rag-tag army of vicious recruits in Ondo and Edo posing as members of the states' task force. Our first encounter with this gang of primitive and fierce men was at the Ondo State stretch of the Lagos-Benin road. Anybody familiar with this federal road knows that the Ondo State stretch is the most dangerous: riddled with potholes and ditches. Worse still, it has the highest concentration of police and customs check points where nothing but brazen extortion takes place.
Precisely on Thursday, December 30, 2010, I was travelling with my family in a Sport Utility Van (SUV) when we ran into this mob of vicious men. They were harassing motorists and demanding money in lieu of radio licenses and public advertisement for branded vehicles. Those who failed to stop and acquiesce to their demands had their tyres punctured. It was akin to a scene from hell watching motorists go through so much harassment in the hands of these men who claimed they were on a revenue drive for Mimiko's government. I am sure that the governor would never be proud of these men and their actions. To think that they are mopping up revenue for a state on a federal road that the same state has refused to repair, as is now the practice, speaks volume of their criminal mission.
While we were still to get over the shock of the harassment, we ran into yet another gang of revenue collectors, this time at the Benin by-pass. These, obviously, were Oshiomhole's men on a similar mission as the gang in Ondo State . They had succeeded in pulling three vehicles off the road and were negotiating with their owners when we arrived on the scene. Without flagging us to a stop, which we would have obliged, one of them threw a nail-spiked stick at our rear tyre condemning the tyre in the process. The car hobbled to a halt to the shock of my kids.
They were too dazed to witness such crude display of lawlessness by Oshiomhole's men. To prove the illegality of their mission and unwholesomeness of their action, the culprit sped into the bush but even that act of feigned remorsefulness did not deter others from getting rather vicious to the point of threatening to harm us for daring to confront them. At last, I had to obey the nudge of common sense by driving the car away from the scene just to save the kids further agony in the country of their birth.
We were forced to rely on the spare tyre for the rest of the journey to Delta State .
But it is an enduring shame that two governors reputed for progressivism would allow their reputation to be soiled by irate men who have lost their sense of decency. These men represent nothing but dogs and Mimiko and Oshiomhole should pull them out of the roads.
Desmond Iweka writes from Agbor