WOMEN SHOULD LOOK TRENDY IN PREGNANCY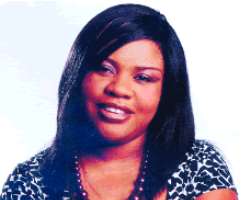 Banigbe
Mrs. Olufolawe Banigbe is the Chief Executive Officer (CEO) of Baby Shower, a Non-Governmental Organisation (NGO) that encourages pregnant women. She is also the publisher of Pregnancy and You magazine. A graduate of Biochemistry and a mother of two, she also studied events management in the United States.
She established Baby Shower, first of its kind in Nigeria, a forum where expectant mothers could be showered with gifts, preparing them for their bundle of joy. She believes that pregnant women could look gorgeous and glamorous in pregnancy outfits, do a catwalk and get involved in modelling. She simply believes that women can be trendy while pregnant. She had a programme recently where she showered pregnant women with gifts. She spoke with Saturday Sun what pregnancy is, her life and other issues.
Tell us what this is all about
Pregnancy is an issue, an area of our life that is very important. As Africans, we have not decided to go into it and as such we have high rate of mortality and infant mortality rate because we have no idea of what we are going through. We don't know when to call the doctor and when things are wrong. We have a lot of old women still following us around, and you won't believe that some women still have their babies at home.
For instance, in the North, if a woman is pregnant, her husband would not allow her to visit the hospital if it is a male doctor that would attend to her. So, to such women, they prefer having their babies at home instead of hospital not minding the complications involved. At times when she goes into labour, it is either she has obstructed, ruptured womb or she loses the baby at the end. Such things happens to inexperienced women and they have cases like VVF and children with all kinds of problems. And the moment the man marries her and sees that she's not fit anymore, he will pick up another woman as wife. So, pregnancy is an issue. We need to talk about it and mix it with entertainment because the fact that a woman is pregnant does not mean she cannot function perfectly. A woman that is pregnant can still work in the office. So, we have to understand that a woman's competency should be maximized even when she is pregnant. We need to understand that when a woman is pregnant, she could have some issues. She could become cracking or emotional, and that is the essence of pregnancy. It has come to bring transformation to the woman to prepare her for her bundle of joy, parenting and for what it takes to raise their destiny.
What are challenges you faced while trying to put up Baby Shower
I won't say there are challenges per say, but what to reward a pregnant mother. A pregnant woman is a bundle of emotion. What would naturally not make her cry, will make her cry. She becomes cracking and may not even allow her husband to touch her. She would not fully explain what she is going through, but I feel that through Baby Shower, which is a culture I am trying to incorporate into the Nigerian Community, it will create awareness of the importance of baby shower. Shower her with gift and let friends talk about how lovely she looks in her state, and this prop them up. This is the first of its kind in Nigeria and it has come to stay.
What are the causes of complications in pregnancy?
There are situations you can influence a pregnant woman such as eating healthy. It will make a lot of difference. It is also good to use pre-natal vitamins either before or during pregnancy. It will affect the baby's health. A pregnant woman should also take the right decision, not taking alcohol and too much coffee. An asthmatic patient who is pregnant is at higher risk. High blood pressure, Obesity, hypertention, complication and congenital issues also poses a lot of problems. Complication in pregnancy are things a woman should know about. A woman, who is pregnant at over 35 years, is likely to go through complications. And some of these are Down Syndrome, pre-mature baby or multiple birth. Multiple pregnancy is a complication on its own.
What was your growing up like?
I had a normal childhood like any other African child. I was born into a polygamous home. My father came from a polygamous family too. He was an educated and calm man. He made sure we had accesss to information. Unlike the internet we have now, we had the encyclopaedia at home and a lot of primary books which we kept on reading. We were equally exposed to the media. So, I think is the kind of exposure and upbringing I had from my parents is what has brought me where I am today.
What are you plans for the women in the rural area
Actually, we have registered a foundation, Mothers Heart Foundation, established to work with the United Nations and government to help achieve the millenium developmental goal, (MDG). Within four and five years, we want to reduce the infant mortality and maternal mortality rate. For this reason, we want to organise seminars. We will go round to speak to women in their different languages and tell them how to settle down. They may not be pregnant but we can give them the content of the pregnant pack. We will talk to them in their own languages to go to the hospital and meet a specialist, not just having an old woman who will help deliver their children at home. If they want the best for their children, they should take the right decision, wherever they are, whether they are educated or not. Baby Shower is the first of its kind in Nigeria. Some corporate companies also show their interest in us which is what we want. We are also doing a make-over nursery for an orphanage known as SWC and we are going to supply them a lot of product. This children are victims of circumstances. Their mothers have dumped them and today they are in the care of people who are looking after them, making their lives colourful.
What prompted you into this beautiful programme
We felt we need to make women who are pregnant happy, women who consciously or unconsciously were ignored by the community. They no nothing about being fashionable in pregnancy. No products promotes pregnant women, and these are the people that make sure that the nation exist by pro-creating. The family is the unit of a nation and the women are the ones giving back to it. We need not ignore these women no matter the circumstance which they've been pregnant, either by rape or martial issue. In essence, we are trying not to encourage abortion nor anything that will be harmful to mother and child. And today we are showering them with gifts, and by so doing it makes the mother happy. Pregnant women should not be ignored.