NEW VOTER REGISTER READY MARCH 2, AS INEC SPENDS N46.3B IN 2011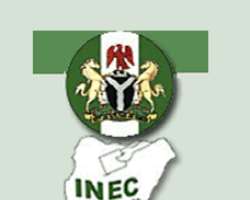 Independent National Electoral Commission (INEC) has replied the Action Congress of Nigeria (ACN) over the request that the planned new voter register be used to conduct the Delta State governorship rerun election.
The commission explained that it could not afford to wait to carry out the planned voter registration before conducting the election because the new voter register would not be ready until March 2, 2011.
Its explanation came just it has been revealed that the Commission will spend N46.3 billion for 2011 fiscal year as contained in the federal budget with the National Assembly.
INEC Chairman's Chief Press Secretary, Kayode Idowu said yesterday that the position of the ACN was just an observation or at best an opinion, because the appellate tribunal that ordered a rerun election had put a three-month time frame.
According to him, the three months grace period would end by February 9 and that the INEC would carry out the new voters' registration beginning from January 15 and the final register would be ready on March 2 after claims and objections have been taken note of and the final register updated.
'It's an opinion of the ACN, and we have over 15 million eligible voters, who may have other different opinions. There is no way we can conduct the rerun election on the basis of the anticipated voters' register. So we are not bound to that, except the party is faulting INEC on law. The three month time frame ends on February 9, so how possible? he asked rhetorically.
ACN had challenged the Commission to use the Delta State governorship rerun as a test case by using the planned new voters' register . Meanwhile, INEC will receive N46, 393, 833 for its activities for 2011, as contained in the proposed national budget presented by President Goodluck Jonathan to the joint sitting of the National Assembly.
A breakdown of the 2011 federal budget proposals submitted to the National assembly by President Goodluck Jonathan indicates that the electoral body would require N38, 278, 955, 577 for recurrent expenditures while N7, 114, 878, 288 would be spent on capital projects, including the building of offices.
Further breakdown showed that funds are provided for the procurement of various items and services.
A sum of N607, 688, 927 is to be disbursed on procurement of additional vehicles; N135, 568, 418 on fuelling of INEC vehicles; N136, 450, 000 on vehicles' maintenance; N69, 709, 547 on purchase of new furniture; N78, 085, 501 on new generators and N128, 049, 414 for procurement of sundry security equipment along with N90 million for security services.
Agencies engaged by INEC to handle publicity and advertisements are to take N315, 388, 674 during the election year; N40 million is to be disbursed for purchase of newspapers and magazines; information technology consultants are to enjoy N 90, 273, 771 patronage and another N135, 156, 285 is to be expended on maintenance of information and technology equipment in INEC offices while N135, 567, 234 is for procurement of computer consumables and office stationeries. A total sum of N136, 498, 000 is budgeted for payment of financial consultants while N54 million is earmarked for legal services.
Salaries and wages are to take N13, 395, 209, 797, honorarium and sitting allowance would gulp N77, 308; refreshments and meals, N63, 110, 370; welfare packages, N18, 270, 000; residential rent for officials, N90, 000, 000, and N45, 280, 097 on telephone charges. Also, INEC officials' international travels, along with related items are to cost N226, 783, 125 while N360, 647, 172 is to be expended on local travels, transport training and other related items.
Total amount budgeted for local training is N225million while 'international training for INEC officials would consume N270, 630, 000. The Commission is to expend N72.8 million on 'subscription to professional bodies', N90 million on staff medical expenses, N90.5 million on drugs and medical supplies while N67, 9, 556 is to be spent on postages and courier services.