SHOWCASE OF BROKEN WEAVES AT TERRAKULTURE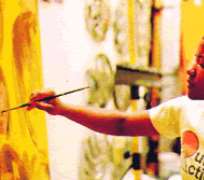 Ogunbiyi during what she knows best
For the young artist, Temitayo Ogunbiyi, exhibiting Broken Weaves at TerraKulture, Lagos, was a major feat.
The artist's showcase of rare works was notable as she assembled drawings and installations, mostly in symbolic patterns.
Many of the works were different from the conventional mode, as they depicted new mediums and messages.
One of the installation works, White Walls and White Weddings, was a major attraction to all guests. The unique work is made of the artist's mother's wedding gown, her father's dress, her brother's piece of cloth as well as a second hand material, all of which come in white. They hung loosely against a white wall, depicting the joy of married life and the significance of purity that is attached to white colour.
The event, which held at Tiamiyu Savage, Victoria Island, Lagos, had art enthusiasts, and critics in attendance.
Founder, Omooba Yemisi Adedoyin Shyllon Art Foundation (OYASAF), Mr. Yemisi Shyllon, who chaired the occasion, said the works were of world standard. Declaring the show open, the chairman said, 'I think our art is going universal. These are works of art that are completely different from what we are used to.'
Shyllon noted that when El Anatsui came up with his metal foil art, many art enthusiasts wondered what it was all about. But today, Anatsui's works are well sought after and are in major museums in the world. His words: 'When he first introduced the works, they looked very intriguing and peculiar. For Ogunbiyi's works, I can tell you that they are very peculiar and interesting. They are very academic even as they depict a very deep mind; a mind which has decided to graduate beyond the traditional art of just sketching and painting.
'This is creative art in the right sense of the word. This is trying to create works of art based on the happenings around and also the different cultures of the world. I recommend the works to the world because it is on the level of a great artist that has ever been. This is the 21st Century art. Shyllon, who bought one of the works, said he was prepared to spend his money because he believed in Ogunbiyi's art.
'For the Nigerian market, her art maybe difficult to accept, but I tell you this girl is not working for only the Nigerian market, but the world. She is not a Nigerian artist for Nigerian market, but a Nigerian artist for the world market,' he added. Ogunbiyi, a graduate of Princeton University in the US, said 'being a doctor seems to be more prestigious to some people, but really I followed my passion which is art.'
She explained that Broken Weaves, depicts something that is broken into pieces but have to be brought together. In the exhibition, the artist attempts to reconcile art with craft. Ogunbiyi, who has been exhibiting for the past six years, has taken her works to Poland, Russia, Slovakia, Germany and United States.