SHARING LOVE WITH CHEVELLE AT KIRIKIRI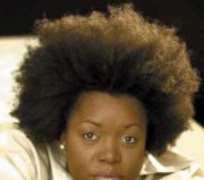 IT'S midday in Lagos. The sun is gradually settling above human head. For some days, the weather had been unpredictable in the city with intermittent rainfall. But this day, luck seems to have shone on those who have booked appointment for a visit to inmates of Kirikiri Prison, Apapa.
The loneliness in the prison yard could be felt lying naked. There was a smell of dejection and melancholy in the air. Chevelle Franklin, the gospel reggae artiste was all radiant, as she talked with the female inmates of the prison. She had a smile that was infectious. She breathed confidence. It was an aura that radiated around her. She tells you the reason for this, is Jesus Christ.
But life for her did not start in the Church. She rewrote the script of her life when she discovered she was no longer having fulfilment in what she loved.
She wrote the first page of the history of her new lifestyle with her first gospel album, Joy, a co-production effort with Danny Brownie, for Mainstream Records.
The album caused quite a stir in gospel circles when it was released in 2001 and led to a tour around UK, the Caribbean and USA.
She intones, 'it was while having the hits, I got saved. The reason I say this, is that people may feel I became a Christian because nothing was happening in my career. But that was totally not the truth. Christ was missing from my life. I got save while touring, because I was empty. Something was missing from my life and I didn't know what it was.'
The reggae artiste was one of the selected artistes who performed at the 2010 Experience concert organised by Pastor Paul Adefarasin-led House on the Rock Church.
The visit to female inmates of the prison was for her to share personal experience with them and to also show that one could rise above all limitations to succeed in life, no matter the poor background or lack of proper education and other negative experiences that one may have suffered while growing up.
Using herself as example, Chevelle says, 'people see the glamorous side of a star and think life is rosy, without knowing that's not the complete picture or story.'
Chevelle, who was accompanied by her husband, Mr. Collins Watts, spent time ministering to the inmates. They played music together and sang many songs, which included Nigerian songs.
BORN in the ghetto of Tawes Pen St. Catherine, in 1974 in her native Jamaica. Her mother, a single parent, could not provide for her and her other siblings. She couldn't even start school until she was seven and had to drop out at 14, to look for job at that tender age to sustain the family. She moved from house to house, from the north coast to the capital city, Kingston in search of job.
Her ambition as a child, according to her wasn't to become a singer, but a sports woman; she was in love with athletics.
Having dropped from school, Chevelle depended on her passion — music— to make a living.
A reggae music producer, Rohan Harrison, discovered Chevelle at a tender age when she used to sing as a child in her neighbourhood.
At 14, she recorded her first single album, Here I am, though, it wasn't released until she was 17.
Nurtured by top Jamaica's music producers such as Mikey Bennet and Rohan Harrison, Chevelle soon marked out a distinctive career. She recorded many hits singles, which include Nice and Naughty, and No Pushover in 1992.
These releases led to collaborations with reggae artistes such as Shabba Ranks in 1991, Spragga Benz in 1996 and in 1997 recorded Dancehall Queen with Beenie man. The soundtrack was used for the equally successful movie of the same name.
By then, she had become a household name in the Caribbean, USA, Europe and Africa, touring major cities, performing at famous venues as New York's Apollo Theatre, Jamaica's Sunfest and two editions of Lagos Experience.
This change came in 1998. That year, she shocked her fans when she announced she was tired of her old lifestyle and declared on stage that she had decided to become a Christian.
'I just said to the people I can't do this and I started to cry. The people were starring at me, I said there's a song I want to sing, Kirk Franklin's Silver and Gold, so I sang that on stage,' she says and rendered the song to the ladies in Kirikiri.
After her conversion, Chevelle committed to singing and recording only reggae gospel. A 2000 collaboration with Papa San on the award-wining album, Victory led to a Marlin award from her vocal appearance on the track, Touch from You.
But Chevelles album was criticised for bringing sassy sound of dancehall into the Church.
There was a move away from tradition, a radicalism in her music.
The dancehall gospel sprang up and nobody saw it coming, she said, 'it's not in line with how tradition had planned it, the method had to be different, but the message remains the same to reach those who seem unreachable.' 2004 saw Chevelle releasing the single album, Come on the singers own label NOW (which stands for No Other Way). In 2005, she also released His Way on the same label.
Chevelle explains, 'I'm at a place in my Christian life now, where I do what God wants me to do. I am not concerned about material things. These tracks explain my personal experiences and how God helped me to work them out. For me, it has to be an album with a message; my music must be with a message that will create change in people's lives. It's really about what God wants me to do and where He wants me to go.'
One of the outstanding tracks on the album is the song, Would You Go?
HOW come that title?
She breathes heavily, 'we always say we will do anything for God or go anywhere for Him, but when there is no stretch limousine to take us or red carpet waiting for us there, we are not sure of going. The question is will you really go? For example I was saying, 'Lord, I will go anywhere you want me to.'
For Chevelle, the answer is 'yes', she would, which made her go to Kirikiri Prisons with her husband, Collins Watts, to give hope to rejected and languishing people.