VICTOR OLAIYA… 80 CHEERS FOR HIGHLIFE MAESTRO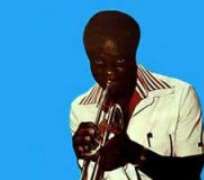 Victor Olaiya, the evil genius of highlife is 80 today. Authoritative and reliable sources say that celebrations marking this memorable landmark today will take the form of an open house party at the highlife maestro's residence in Aguda area of Surulere, Lagos, from morning till night. Congratulations!
A celebrative performance is however being planned for Sunday, January 9, 2011, at Stadium Hotel, Surulere Lagos. Victor Olaiya's own band, which has continued to wax strong with the infusion of young blood, is likely to take the stand.  But on hand to celebrate the octogenarian highlife maestro is the newly constituted All Stars Band, and all embracing outfit co-ordinated by Afimiluyi Bambo, a dynamic impresario, who is committed to the invigoration of highlife music in Nigeria.
Among other committed musicians, the All stars band will feature such veterans as Orlando Ekemode Julius, Eji Oyewole, Alaba Pedro, Sina Ayinde Bakare, Anjola Aboderin. The All stars has also been configured to include a whole new generation of highlife musicians such as Biodun Batik, Ige Olusoga, Roy Olokungboye, Chijoke Enebeli among many others. One great veteran who will be conspicuously absent is Maliki showman who died early this year-from injuries sustained from a car accident.
Victor Olaiya deserves this celebrative honour and more as one of the pioneers of highlife in West Africa. The fact that he has kept the music alive till today is a feat that deserves to be honoured and celebrated.
I had the opportunity of seeing him in actual performance recently on the occasion of Tunji Oyelana's 70th birthday, which took place at Yoruba Tennis Club, Lagos. The band was playing the same old songs, but the inclusion of young musicians of singers and hormen infused a dynamic blend of freshness to the ensemle sound in all the departments of the music. Even, Victor Olaiya's trumpet was sounding as forceful and formidable as ever within the context of this new setting.
It is a great pity that Nigeria's musical heroes are not kept in the limelight for this generation to cherish and honour. The electronic media has continued to shirk its responsibility of bringing to the notice of new generations of listeners, the music of our heroes through airplay. Otherwise, Victor Olaiya's 80th birthday should be of national concern. All things being equal, Deejays and music producers should have been promoting Victor Olaiya and his music on their airwaves this season as build up towards his birthday, today.
Victor Olaiya is comparable to big stars such as Louis Armstrong, Count Basie, Duke Ellington and such other pioneers of jazz and other forms of music whose birthdays even after their death, still attract huge celebrations that run not only on the various airways, but also in live settings.
Victor Olaiya who ruled the decade of the 50s  highlife scene, put the final polish on his talents in the Bobby Benson band before setting up his own group, the Cool Cats in 1954. By Nigeria's independence in 1960, Olaiya's highlife aggregation was the top band in the country. Setting the pace for highlife to thrive in Nigeria after Bobby Benson released Taxi Driver, Olaiya has continued to maintain and sustain a dominance, which deserves celebration at 80. He probably has not been consistent with live performance as a result of the decline of the music as a frontline, popular form, but whenever he comes out of semi-retirement like he did on the occasion of Tunji Oyelana's birthday recently he mounts the stage like a colossus.
Victor Olaiya's presence is an asset to highlife and a blessing to Nigeria that should continue to use him as a vehicle for invigorating the country's indigenous musical culture, particularly its highlife heritage. But Olaiya's potentials are not being harnessed. Take last October's 50 years of independence celebrations for example. The band most appropriate to perform at the state house in Aso Rock should have been Victor Olaiya, but the show was treated as just another contract and given out to somebody to execute. The band of young musicians performed well, but the show did not resonate with the memory of the 60s that Victor Olaiya represents. It did not tell the story of our independence with the authenticity it deserved. It did not relive the experience of independence in 1960.
Born 80 years ago, as the 20th child of a modest family in Calabar, he discovered a taste for music with his school's brass band, playing a bombadine, French horn and cornet. In 1946, he led the band at the Empire Day celebrations. When he left school the  following year,  he started playing in Lagos with the Ekpo Band, an itinerant outfit with three brass instruments, two drummers and six sticks players. The experience was not financially rewarding, but it was instructive.
Victor Olaiya took the next step forward in his career when he filled a vacancy in Sammy Akpabot's Sextet as assistant band leader and lead trumpeter. Akpobot was a fine singer and trumpeter, but the xylophone, an instrument he played rather skilfully was his special preoccupation.
In a continuous search for higher levels of creativity and performance, Olaiya moved through the Lagos City orchestra and City Tempos Band, which further helped to improve his musicianship. But by 1952, Olaiya became the leader of Bobby Benson's second band, Alfa's Carnival Group, which played daily at carnival shows and night clubs.
In 1954, he launched his own band, the Cool Cats at the West End Café in Lagos, enlisting into it a whole new generation of musicians, who later became individualists — Victor Uwaifo, Tony Allen, Sivor Lawson, Rex Jim Lawson, Fela Ransome-Kuti who cut his teeth as a musician with the band; among many others.
Olaiya released one hit after another in the 50s, with tunes that dominated the airwaves, and soon progressed to more prestigious engagements. One of his career highlights was the 1955 state ball for Queen Elizabeth II, followed by the 1957 gala for the Miss Nigeria competition, which both attracted national attention.
However, Olaiya's own crowning achievement came when he was chosen to play with his new band, the All Stars, at Nigeria's independence celebrations in October 1960 — a good reason why he should have been the government's choice at its state ball in Abuja last October, on the occasion of Nigeria's 50th independence celebrations — to relive this experience and capture the essence in its cultural splendour and authenticity.