'Jonathan's N250m vote for entertainment could be swallowed if...'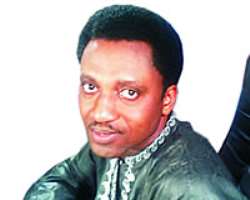 In this interview with SEYI AKANBI, Rykardo Agbor, the tall handsome actor whose versatility in both Yoruba and English-speaking roles in the Nigerian movie industry, surprises many movie lovers, speaks on his focus and the state of the industry, among others. Excerpts:
Can you rate the progress in the Nigerian movie industry?
To be candid, Nigerian film industry is witnessing tremendous improvement on a daily basis. Our people are now producing films that are being watched all over the world, while some of our actors and actresses now feature in Hollywood. I strongly believe that if we can continue in this trend, we are going to witness a geometrical progression very soon.
You have been in the industry since 1995 and you have featured in numerous Yoruba and English movies, why have you
not produced your own movie?
Why must I produce a movie? I am an actor and not a producer. It is only in Nigeria that actors see producing as what they must do once they have appeared in many movies. In other places, hardly do you see an actor producing movies; there is an area of specialisation for everyone. I think a lot of things are being mixed up here in Nigeria, if everyone focuses and devotes attention to his/her area of specialised interest, we would perform better.
While I would not refute that some notable actors abroad write, produce, act and direct their works, majority of them specialise in one or two areas and do better. I am an actor, and I have never seen myself producing and I will always give my best whenever I am called upon by any producer to come and act in his/her movie.
In case you decide to quit acting, what other art would you venture into?
Why would I decide to quit in the first place? Acting is a profession that has no age constraint. No matter your age, there would always be a role for you somewhere. Look at the old people in the industry today, they are still active and vibrant in role delivery, so why would they quit? Not only in Nigeria, even abroad, they have a lot of old men and women who still feature in movies up to date. There are some whose films we normally watched in the late 70's and early 80's, they still act out their assigned roles convincingly. Some even act till they died at old age. I so much love acting and I don't think I can ever consider quitting the profession.
Is there anything you dislike about stardom?
I wouldn't call it a dislike, I would rather say that I am not comfortable with it, and that is the fact people tend to take undue advantage of stars. Imagine you going out to buy stuffs and the prices are inflated because you are a star. People see you at a place and expect you to give them money in the name of being a star. Yet, you must not sound rude because they are your fans. You just have to be very diplomatic in dealing with them.
Is there any occasion where this problem you mentioned made you react in an unfriendly manner to any of your fans?
There has never been any such occasion. I know the importance of fans in any profession. I am a football freak; a fan of Barcelona Football Club actually, so I know how I feel when my club is playing and I usually consider this when any fan of mine comes by. It was not easy to win a fan, so I don't want to lose any of them. Some artistes don't really appreciate the importance of fans. The fans place us at whatever pedestal we find ourselves. As I always say, if there is a rave about any artiste, it is not going to be from his/her siblings or relatives; it is going to be from fans who watch what he or she does. It is only your fans that do pay to either watch or buy your movies; your relatives will just come to your house and watch it for free. Some would even insist that you give them complementary copies. The kind of respect you should give to the fans is immeasurable.
What about female fans who would want you to introduce them into the industry?
I always tell them that I am an actor; I am not a producer therefore I cannot introduce anybody. I always make them understand that I also receive calls from producers or their production managers to come for a role, and in most cases, I won't know who the other co-actors are until I get to the location. Painstakingly, I explain to them how difficult it is for me to introduce anyone.
However, I always encourage them to persist in their quest to get to the top through prayers and hard work.
What is your take on piracy?
As I always say, piracy is big chain that cannot be broken by any individual; I think it is high time the government came to our rescue and helped us. That is all I expect the government to do for us at this point, if there is any support or succour, it is to curb this piracy problem.
Are you saying Jonathan shouldn't have donated fund for those in entertainment industry...?
That is not the point, we need the money but we need moves to checkmate piracy more than we need the money. If the menace is not curbed, it could 'swallow' the allotted money overnight. Every entertainer cannot benefit from the money but all will be happier if piracy is reduced to a lowest percentage.
It has been observed that most Nigerian actors and actresses are not comfortable with what they get from acting, so they do all sorts of things to augment it. Is that the case with you?
Capital no! That observation and belief are erroneous. I have been in the profession since 1995 and I have lost count of the numbers of movies I have featured in, I live in my own house and ride a car of my choice. I have been married for more than ten years and I can take care of my family. So, you cannot generalise that we are not comfortable with what we earn. I am okay with my life and with my pocket. I can pay my bills conveniently.
Where do you see yourself in the next ten years?
The Hollywood; that is my dream which I know will definitely come true and I am working assiduously to get there. I do everything that will make me fit, I jog every morning if I am not on set, I swim and I box. I play football every Sunday just to make sure I am fit and flexible. It is only here in Nigeria that you will see an actor having a pot belly and will still go about celebrating it. Anytime I travel abroad and I see those actors that we are of the same age range, they look much younger and I always strive to maintain my stature and looks so that when I finally get my way into the Hollywood, I would still be fit to carry on.
Actors and actresses are generally seen as promiscuous, why is this so?
It is because we are the cynosure of all eyes and role models to many; everybody wants to find out every detail of our lives. Contrary to that insinuation that all actors and actresses are seen as promiscuous, I will say that irrespective of the profession, there are still those who are good and vice versa. Mark you, people who are at the top are more susceptible to scrutiny and criticism.
Invariably, if people in other professions are placed under close monitoring as you people in the media trail us; you will find uglier stories that are nasty and obnoxious. Being sexually promiscuous or disciplined is not a function of your profession but a revelation of who you really are.
Are you saying that you have never been tempted in the course of doing your job?
I am not a superhuman, why would I be exempted from temptation. Only that I do pray well to God to give me the ability to rise above temptation. As a man, one should try as much as possible to have some kind of self-control and self-discipline, which I thank God for giving me. I pray very hard. That is the only thing you need to fortify your marriage and help you maintain self discipline and restraint.