That our movies may get better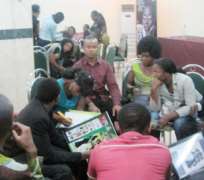 The nine days' long technical capacity building workshop in film production, organised by the National Council for Arts and Culture (NCAC) in collaboration with Nollywood Travel Market Limited, ended on December 16, 2010 with a brief closing ceremony at the Royalton Hotel in Abuja.
Addressing organisers and participants at the event, M.M. Maidugu, the chief executive director of the National Council for Arts and Culture, expressed gratitude at the turnout and success of the workshop.
"Our initial fear about this workshop was on whether or not it will be possible to mobilise enough people to partake in it. But what I saw in Lagos, Enugu, and now Abuja shows that our youth are hungry to learn. So, I must congratulate the organisers for their ability to mobilise such a huge number of people within the time available for us to plan and execute this event," he said.
The workshop focused on four major areas namely: scriptwriting, costume and make-up, editing, and cinematography (which includes light, camera, photography, and sound engineering) with the aim of engaging practitioners in refresher courses by way of improving performance and delivery which will in turn impact on the quality of films turned out by producers and marketers in Nigeria.
Wilfred Ayeni, a member of the Actors Guild of Nigeria in Abuja and one of the workshop participants, expressed concern at what he described as the influx of mediocrity in the Nigerian movie industry.
"Nollywood as it is today is populated by mediocres who are not bothered about professional ethics and quality of output in what they do but their short term returns," he observed. "This workshop, I am sure, will go a long way to put us in good stead to contribute to the development of our industry, and by extension, the nation at large," he added.
Reiterating an earlier promise for a better and improved edition of the workshop next year, Chidi Nwokeabia, of Nollywood Travel Market Limited, challenged other relevant ministries and agencies to emulate the NCAC.
"It is not just enough for people, including those in the government quarters to condemn the quality and depth of our work. They should emulate the NCAC by supporting training efforts like this," he said.
Maidugu presented certificates to the over 100 participants at the workshop, while promising that subsequent editions will ensure that more people participate.
In addition to the workshop, three films are expected to be produced by the body, one each from Lagos, Enugu, and Abuja. Nwokeabia revealed that the decision to produce the three movies is to provide opportunity for participants to demonstrate what they have learnt in the course of the workshop, which had Ernest Obi and Lancelot Imasuen as some of the facilitators.
Nita Biyak George, an Abuja based artist who participated in the workshop, described it as a worthy experience.
"I felt fulfilled being part of this workshop. It is three days that every serious minded person within the trade will live to treasure. I am glad to have been part of it and I thank the organisers for giving me the opportunity," she said, expressing the hope that the knowledge impacted in the participants will make them complete artists.