YOUTH EMPOWERMENT: PANACEA FOR PEACE, DEVELOPMENT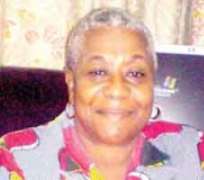 Being text of a paper presented by Dr. Timiebi Koripamo-Agary at the Ajasin Foundation Colloquium held on November 24, 2010 in Lagos.
CONCERN about the issue of youth empowerment is a global phenomenon, but to me, it is the greatest challenge we face as a people. Discussions and debates on it are changing as old convictions and ideologies have failed to yield the desired results.
My submission on this subject proposes no single panacea as there is no such simple quick-fix or silver bullet solution. In the same vein, man's quest to maintain a state of perpetual peace is a desired destination, but alas, it is an illusion, as the emerging dynamics of our society has shown.
As discussions progress, I hope to suggest a combination of new perspectives to handling the challenge of institutionalising peace for social, economic and political development.
What is youth empowerment?
According to the Commonwealth Plan of Action for Youth Empowerment (PAYE), 2006 - 2015, developed through wide-consultation with key stakeholders in all regions of the Commonwealth, youth empowerment is to empower, engage and create value so that young women and men can contribute to the economic, social and cultural advancement of their families and countries and to their own fulfillment.
The following two dimensions of youth empowerment were identified:
• Young people are empowered when they acknowledge that they have or can create choices in life, are aware of the implications of those choices, make an informed decision freely, take action based on that decision and accept responsibility for the consequences of these actions.
Empowering young people means creating and supporting the enabling conditions under which young people can act on their own behalf, and on their own terms, rather than at the directions of others.
The enabling conditions fall into four broad categories:
• An economic and social base
• Political will, adequate resource allocation and supportive legal and administrative frameworks
A stable environment of equality, peace and democracy and
access to knowledge, information and skills and a positive value system.
From these foundational issues, we can agree that any transformational agenda for young women and men in Nigeria must of necessity, address these four areas to empower young people to make their much-needed contribution to the peace and development of this country.
Setting the scene
• The quality of a country is not based on the number of men and women in its armed forces nor is it determined by faithfulness to the application of the principles of zoning and or the allocation formulae of political offices, which in Nigeria is actually a euphemism for sharing public funds.
No country becomes great by the number of politicians jostling for political offices or the number of times its constitution is amended in a quarter. The greatness of any nation is in the quality of its people in the worth of its governance and in the empowerment of its youths.
• Indeed, the future of our country and its development depends on how we develop, empower and inspire our youths. In the history of nations, the youths have always been the extract of the population to wage war and make the supreme sacrifice to attain peace and defend sovereignty.
But sadly though, it is difficult to ask the Nigerian youth or citizenry to make any sacrifices at the present time. Our belt tightening began in mid 70s before we were SAPped in the decades that followed. It has thus become difficult to demand patriotism from our youths, who now hardly believe in the Nigeria project.
For many of them, their sense of dejection, rejection and abandonment is etched in an awareness of hopelessness and a bleak future. They see affluence and are probably envious of the political class. They also want to make sure their needs are accommodated. But how well are we as adults and politicians paying attention to these issues and concerns of our youths.
• When John Fitzgerald Kennedy in his inaugural speech as president of the United States told Americans 'ask not what your country can do for you—ask what you can do for your country,' he knew that America was fulfilling its basic obligations to its people, so to him, it was payback time.
In Nigeria, the reverse may well be the case, ask not what you can do for your country - ask what your country has done for you. Candidly though, it is difficult to point out in the last two decades in specific terms what we have done well for our youths. Certainly not in terms of provision of basic social and economic opportunities, such as qualitative education, health care and most importantly, jobs.
Our common experience
• The Amnesty Programme was conceived as one of the most positive initiatives embarked upon in contemporary times and I was privileged to be its public face and contact person in its disarmament phase. It was a fall-out of years of neglect and exclusion - paying lip service to the plight of our youth in the Niger Delta region.
This disconnection still threatens our social cohesion and our common destiny as a nation. The militant youth as some prefer to call this group are our sons, brothers, even husbands and fathers. They are driven by the imperatives of survival.
•  In my interaction with them and in the campaigns to encourage them to disarm and accept amnesty, I discovered that a combination of factors pushed them to take up arms against their motherland. Some of them were deprived of education and employable skills.
Others had lost their human dignity and were unable to think, plan or even dream beyond the daily struggle to survive. Little wonder some of them opted for guerrilla warfare in the creek. They saw opportunities but could not participate.
•  Underdevelopment, environmental degradation, devastation by the activities of oil exploration and exploitation of the Niger Delta area, as well as, the exclusion of the people were some factors that pushed many into militancy. The result was a region ignited by violence, destruction, massacres, kidnapping and a drastic reduction in oil production. There was breakdown of law and order, and anarchy threatened to envelop the country. Life was hard enough without the attendant violence and crossfire to which the people were being exposed to.
The Niger Delta became like a patient hemorrhaging to death. But physicians will tell you the first thing to do when confronted with such a patient is to stop the bleeding, resuscitate and stabilise the patient, before commencing comprehensive treatment.
The Amnesty has restored peace to the region, albeit a fragile one. This has to be sustained and consolidated. But the amnesty was not and has never been intended to be a stand-alone programme.
•  Let me say that the root causes of the Niger Delta  conflagration as enumerated above, are present in all other parts of the federation and for us to have peace and achieve our national development goal of vision 20:20:20, we must tackle them holistically. I dare to propose some ways forward.
•  One of the basic ways of empowering our youth is through qualitative and labour market sensitive education. But there is currently a fundamental imbalance and inconsistency in our educational policy and system. Education in a globalised world is the foundation on which development and the future can be built. It is universally accepted as a basic human right as affirmed in Article 26 of the Universal Declaration of Human Rights.
We have over twelve million children of school age outside the education system. As expected, this lack of education and employable training ultimately will limit ability to be competitive in the labour markets tomorrow.
•  These children through our collective action are handicapped for life and in turn have little or no chance of ever being able to access decent jobs. I suggest two deliberate and determined interventions to cure this ill. One is by instituting a series of intensive, short-term programmes designed for the youth and shaped precisely to capacitate them and meet their immediate needs.
The second is a large-scale, long-term investment in the on-going reform of our educational system. While the first is focused closely on the competence and employability of our youth, the second will concentrate on continuous improvement and provisions of basic infrastructure to make our educational institutions centres of excellence.
• The tragedy of this situation is that fifty five years ago, some perceptive and far sighted leaders like Chiefs Obafemi Awolowo and Adekunle Ajasin introduced free education in the country.
Today, things have changed so dramatically. The cost of education is prohibitively high and absurd. It is unimaginable that in a country where the Minimum Wage remains N5,500, some private secondary schools including a number run by the missions, charge as much as N500,000 per term as tuition!
Access to quality education has become an elitist preserve. Yet, our Constitution charges the government to make education at all levels, accessible to the Nigerian citizen. Section 18 states that:
'Government shall direct its policy towards ensuring that there are equal and adequate educational opportunities at all levels…; government shall strive to eradicate illiteracy, and to this end, Government shall as and when practicable provide free, compulsory and universal primary education, free secondary education, free university education, and free adult literacy programme.'
•  As we know, our tertiary education has been in crisis for decades, bedeviled amongst other things by poor funding to brain drain, low administrative capacity and frequent government-staff industrial disputes that have seen their frequent closures.
Flagrant disregard of the sanctity of collective agreements by government has not helped matters. In most cases, the private universities are in no better shape as far as infrastructure is concerned, and worse-off in terms of qualified academic staff. And although the budget for education is far lower than the UNESCO- prescribed 26 per cent, and some times less than half of it, this is not even well utilized or adequately sourced.
•  In the 2010 budget, for instance, the National Assembly alleges that the utilisation of the capital vote for education is less than 30 per cent. The net result is that Nigerian students suffer and are so badly oriented that the national student body – the National Association of Nigerian Students (NANS) has been in tatters for years, factionalised, with its leadership determined not by votes but by blows and arms. The very institutional machinery that should process and qualify our youth for governance has become a shadow of itself.
• The situation in the larger society is not better. Internal party democracy is a mirage and party primaries are in many cases rigged, while disputes are not peacefully settled by competent election tribunals or other legitimate means but through violence, with opponents in some cases, sent to their untimely graves. The sorry state of our democratic practices is painted in graphic details by court annulments and re-run of the April 2007 gubernatorial elections in a whooping third of the thirty-six states of the federation.
• Out of the six states of the South-South for example, only the election in Akwa Ibom survived, that of Edo was upturned, Rivers State went to a different candidate, those in Bayelsa and Cross Rivers went through re-runs while that of Delta State has just been upturned.
In the North, fresh elections were conducted in Adamawa, Kogi and Sokoto states respectively. Similarly, those in the West were not spared either, new governors other than those declared in the 2007 elections emerged in Ondo and Ekiti states with the contentious one in Osun still undecided.
•  In all these, the youths are either onlookers or are used as thugs to perpetrate electoral violence and crimes. I dare to state that the electoral frauds are neither inspirational to our youths nor do they portray us as a nation, in good light to the international community. Our cherished ethical values, morals and respect for the sanctity of life have become tales by moonlight.
•  So we have very high levels of crimes perpetrated by youths. They emulate and perfect the seamless political violence and frauds by the political class. There has emerged from the North a group – the 'Yan dabas' and 'Boko Harams,' who perpetrate crimes and kill in God's name. From the West, we have 'the Alaye Boys' and ethnic militias, who send people to their early graves and confront authorities in the name of a futuristic Oodua Republic.
The East is not exempted. It has witnessed armed robbery, and other crimes, while kidnapping has been elevated to the level of a thriving industry. And as stated earlier, the situation was quite explosive in the Niger Delta area before the Amnesty programme took off last year.
•  These regional groups are outlets that provide windows of expression for our youth. The cost of youth unemployment to economic and social development is extremely high. It perpetuates the inter-generational cycle of poverty and is associated with high levels of crime, violence, substance abuse and the rise of political extremism. For the young women, the dangers of trafficking and entrapment in the commercial sex work are commonplace.
•  Apart from these, many of our youths have become so frustrated, dejected and desperate that they try to get to the more prosperous 'greener pastures' of the world by all means and at all cost, even if it entails dying under the scorching sun of the Sahara, drowning in the deep waters of the Mediterranean or crushed in the landing gears of an aircraft.
Yet, our youths are not inferior to youths in other parts of the world; we meet some of them in the streets and offices of Europe and America and we know that our professionals excel in those countries.
My conclusion is that we do not provide our professionals and youths the enabling environment to blossom and excel. We need to give them the chance and opportunity, otherwise these bundles of energy will explode in ways that our national security and unity will be threatened!
Mass employment and social security
•  Our productive population has been on a steady rise while formal jobs are shrinking. Mass employment schemes have often failed while mass rationalisation plans usually succeed.  In the twilight of the last regime, the reform of the public sector led to the disengagement of 121,731 workers from the Federal Public Service between 2006 and 2007, made up of 41,730 civil servants and about 80,000 staff of parastatals.
• To worsen matters, the criterion for the exercise was not clear. I was not spared from this ordeal as Permanent Secretary of the Federal Ministry of Labour and Productivity. My crime?  I went to court to stop being evicted from my official quarters, which was illegally sold after I had commenced the perfection of a sales offer on the property made to me by government.
I was recalled by the late President Umar Yar'Adua and even in retirement today, I continue to fight the illegal sale in the courts. I was lucky to be recalled, some were not and many, who were recalled have not been paid their gratuity or severance entitlements for years. They left to swell the army of the unemployed, who are still very active in life.
•  Unemployment is the main cause of youth restiveness, restlessness and disempowerment, yet we have the ability to create mass employment. For instance, it is estimated that Nigeria needs an average of 2.5 million new homes per annum.
Therefore, nothing stops the country from investing in a Home Builders Brigade, where youths can be gainfully employed to build homes.
In Abuja, where for years now, massive construction of roads has been going on, a direct labour policy would employ millions of youths across the country for building our much needed infrastructure. But are we as a country ready to do away with the culture of contracts and the high costs this involves to secure the future of this country and those of our youths! Are we the bourgeois' ready to give up the opportunity to acquire immoral wealth at the expense of our youths and the peace and security of this country?
•  All over the world, rail transportation is a major means of mass employment. For instance, the President Olusegun Obasanjo government was reported to have awarded a contract for the construction of a modern railway from Lagos to Abuja; if this project was executed as planned, imagine the quantum of jobs that would have been created through the annual transportation of millions of passengers/cargos across the length and breadth of the country, and how many more jobs can be created if there was a functional rail system from Lagos through Abuja to Maiduguri.
•  Our environment is in a sorry state, in some parts of the country, filth is piled up like the pyramids. The level of degradation is taking its toll on us all as we breath in the polluted and foul air. Taking care of the environment will be a worthwhile investment as it is capable of generating opportunities for mass jobs, thereby guaranteeing a healthier society. We must immediately start massive aforestation programmes from the mangroves to the Desert.
We must deal with the different types of erosion in the country. There are indeed many sustainable mass unemployment schemes. And providing a social security scheme or more specifically, paying unemployment benefits is one scheme Nigeria should be able to afford. But to simply abandon the unemployed to their fate is an invitation to disaster. We do so at our peril. There is an increasing level of bitterness and hopelessness protracted lack of jobs and the attendant high unemployment.
My Submissions
•  In order to empower, emancipate, liberate and inspire the youths, and in the process, ensure peace and development, we should make education up to the senior secondary school level free, qualitative and compulsory.
A back-to-school campaign should be carried out urgently to get all children of school age into the classrooms. Tertiary education should be qualitative, accessible, and affordable while the curricula should be reviewed to drive technological development and entrepreneurship. Basic infrastructure should be made available for our children to function optimally in an environment conducive for learning and research.
•  As I stated earlier, mass employment and unemployment benefit schemes should be introduced. The face and content of politics must change; elected public officers can be said to be special people, but any adult can be elected. So while the vote is fundamental, what is much more fundamental is the sovereignty of the people over all other powers.
The people must be empowered to hold their leaders accountable; they must be able to exercise freely, their power of recall, and be subjects rather than objects in the political scheming of our country. We cannot empower the youths without empowering the people, a powerless people, cannot empower its youths.
•  We also need a societal re-orientation where hard work is rewarded and crime punished, we cannot fight corruption in a country where a public officer found to have embezzled billions of Naira is fined N3 million in the name of a plea bargain. What example is this to our youths? Every now and then we are invited to series of award and chieftaincy ceremonies.
Awardees flaunt crass material wealth and wine and dine in opulence in the midst of want and penury. Society is not curious about the source of such stupendous wealth. Our rebranding effort should target the correction of this lifestyle.
•  My simple request is certainly not impossible or completely strange. All I ask is for a return to the values, which drove our contemporary past, especially the First Republic, where the values of honesty, service and selflessness were dominant. A return to our past, of healthy competition amongst our leaders and regions, when the building of infrastructure like stadium, hotel or university by one leader is taken as a challenge by others, not just to replicate or score a cheap political point, but to build better ones.
•  I have laboured to advocate what was symbolised and personified in the person, values and deeds of Pa Ajasin, whether in his championing of free education, issues driven politics, good governance or commitment to democratic ideals. The legacies of great nationalists like Pa Ajasin and his ilk are indeed the guiding lights for the peace and development we strive for today.
They believed in the Nigeria project, so do we, so help us God to place the youth in the front burner of our development agenda.
•  Koripamo-Agary retired as permanent secretary in the Federal Civil Service recently.