FILM SECTOR NETS N52 BILLION, SAYS MINISTER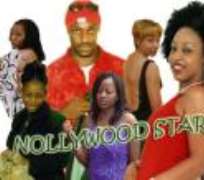 THE Information and Communications Minister, Mr. John Odey, yesterday put the net worth of the country's film industry at N52 billion ($450m).
Odey spoke at the weekend in Abuja during the opening ceremony of this year's edition of the ZUMA Film Festival with the theme, 'Films Across Borders,' being organised by the Nigerian Film Festival.
The minister said the event, the fourth edition, was "coming at a time when the nation is taking stock of her developmental strategies with a view to charting a roadmap to become one of the 20 most industrialised nations by the year 2020."
Odey described the nation's film sector as one "that has great potentials in actualising the government's objective (Vision 2020)," adding that the motion picture industry in Nigeria "indeed deserves to be celebrated."
The minister said: "The history of the evolution of the Nigerian film industry is a lesson in human resilience; the celebration of the never-say-die spirit and creative ingenuity of Nigerian filmmakers. We need not be reminded that the Nigerian movie industry came out of nothing to emerge the third largest content provider in the world with net worth of $450 million. The compelling lesson from this is that no matter the state of our economy, we have what it takes to salvage the situation."
The sector, Odey said, "blazes the trail in its contribution to the national economy through the provision of employment opportunities to hundreds of thousands of Nigerian youths. This forms the thrust of one of the cardinal focus of the Federal Government seven-point agenda: Wealth creation; with enormous potentials in the attainment of the Millennium Development Goals (MDGs)."
In his address, the Managing Director, Nigerian Film Corporation and Chairman, Festival Organising Committee, Mr. Afolabi Adesanya, assured that the passing into law of various policy documents, "will signal a new dawn in the motion picture practice in
Nigeria."
He disclosed that several ministerial committees were set up to address the crucial issues in the sector such as "professionalism in the motion picture industry; comprehensive study of the film industry; guidelines for the establishment of film villages and the National Film Development Fund.
The reports of the committee, sequel to their submission, have since been endorsed by the National Council on Information and Communications (NCIC)."