EX-GOV'S AIDE: UDUAGHAN STILL CALLS THE SHOTS IN DELTA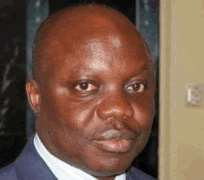 An aide to the immediate past governor of Delta State , Dr. Emmanuel Uduaghhan, has said that despite his (Uduaghan's ) recent sack by the Court of Appeal sitting in Benin City , Edo State , that the former governor is still pulling the strings in the state, working closely with the Acting Governor, Mr. Sam Obi.
The Special Adviser on Special Duties, Dr. Emmanuel Mafiana, also said that President Goodluck Jonathan has given the embattled former governor the assurance that Uduaghan would return to government house , Asaba.
The politician who spoke with a lot of assurance disclosed that President Jonathan had backed Uduaghan's return to government house to take up his position as governor of the state.
Below is an excerpt of the interview with Dr. Mafiana
Sir, while speaking to the people you talked about President Jonathan assuring former governor Emmanuel Uduaghan of returning to government house as governor after the re-run election.Can you please explain what you actually mean?
Just like I said, three days ago , we had a meeting with Dr. Uduaghan, and the Acting governor. And that was the day he returned from Abuja to discuss with his Excellency, the preparedness of Delta State for the re-run election. And his words were, that the President said , when he asked what his duty as Acting governor is, he said, 'your duty is to go back and return Dr. Uduaghan to government house . And his statement was that the return of Dr. Emmanuel Eweta Uduaghan to government house, is a task that must be done . And that is a clear statement that his Excellency the President, is fully in support of Dr. Uduaghan's return to government house.
Do you mean that President Goodluck Jonathan made the above assertion?
He made the assertion and he meant it . And of course, he visited Delta some time ago .The wife also visited . From the approach, you would have known somebody who is not in support of you. We are sure, the President is in support of Delta State . He is in support of Dr. Uduaghan . And I'm sure he meant what he said.
But there seem to be some fears over the possible return of Uduaghan?
I wouldn't understand the fear. Those people that are afraid are no strong PDP members. They may not have been in caucus where meetings are held and discussed . So, if you see, we have followers, we have power brokers. If you are a follower, follow to the core and listen and follow up whatever they are doing and listen to people's speeches. So, you will know whether you are going in the right direction or in the wrong direction. And from what I see,I don't think I have missed any other meeting of PDP or any outing . And I am rest assured that all through his mission, our people do not know what PDP is doing or the preparedness of PDP . We don't have any fears in PDP. And there is nothing happening, like we have always said.
Would you confirm that since the sack of Dr. Uduaghan from Government House by the Appeal Court , that he has been pulling the strings from outside?
My God! I don't know if you were at the airport when he arrived three days ago. I don't know if you were also with us at Sunny Odogwu's house when he came there to address some of the aspirants.Then, we asked ourselves, is it the person that people are castigating? I don't know if you were also at Ogwashiukwu when only Aniocha South came out for a rally. Then, you will ask yourself this question and give answers to it.
I beg your pardon, the question is, confirm that since the sack of Dr. Emmanuel Uduaghan from government house by the Appeal Court , that he has been pulling the strings from outside, working with the acting governor, hand in hand?
Co-operating with the Acting governor?Thank you very much. Like I told you, three days ago, the Acting governor and Dr. Uduaghan were together with us at Chief Odogwu's house, and…
Where?
In Asaba. Both of them made speeches. Besides, I'm close to the system.These two people are like father and son, and they have been working hand in hand . I mean, like you heard the acting governor say, when we had our rally , and he has been going round . He has told them at the National Office , that he believes his excellency has only gone on vacation .And that he is only holding forth for three months. Somebody that is working must take a break for some time and that's what all of us believe.
From what you have said, you are assuring us that PDP is still strong in Delta State , why then , are you organising this rally?
You see, when you leave your lips, the hamartan finishes it up . In politics, what we are doing is key. It's necessary. If you want to go for elections , you need to meet the grassroot and let them know your manifesto, you have to tell them what you can do, and what you have done. We are now doing grassroot campaign, grassroot crusade to let people, people who cannot listen to radio,who are not privileged to have radio or television sets in the language they can understand. What we have done and why Dr. Uduaghan should come back.That is what we are doing now. So, ordinarily, what we are doing does not mean that we are not strong.