ADEOLA BAMISHILE STEPS ON RUNWAY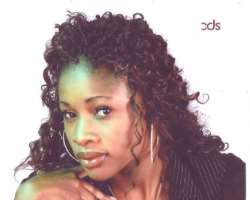 Ravishingly beautiful, Princess Adeola Bamisile, the pretty daughter of one-time Chief Justice of Ekiti State is gradually stepping to the pinnacle of success with her modeling career. Ever since she appeared in one of the celebrity journals in town, Paragon International Magazine, the 300-level, undergraduate of Law, Leed University, Ibadan, Oyo State, has been receiving several calls for this and that audition.
Though, most of the time, the easy-going Akure born leggy queen of beauty, is always disappointed with the kind of harassment she receives from the men folks on a daily basis due to her very slim physique and charming look. Aside the multi-national companies who want to use her face for this and that job, Adeola, as you are reading this is on her to Abidjan in Republic of Benin where one of the top pharmaceutical companies there invited her over for an audition.
While this is on-going, pretty-faced soft spoken Adeola is waiting to excel even in the movie industry as she's said to have had an interest in the Nollywood. 'Though, I foresee my career in the entertainment industry a promising one as I also eye the Nollywood. I know that I have the potential and talent that can be exploited by the stakeholders in the film industry, no one, really, has invited me for any audition. If I'm invited, I would honorably honour such an invitation but for me to beg for a role is what I can't find myself doing." She said.
True to her words, Adeola is one creature that every man who has had one or two stints with her would want to take home to mama. Her beauty and creative ability, which is one of the things that stands her out, will make even Naomi Campbell green with envy.