JTF IMPOUNDS 13,800 LITRES OF ILLEGALLY REFINED PETROLEUM PRODUCTS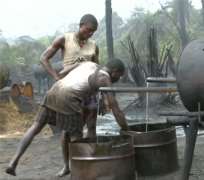 In addition to the seized products, the Joint Task Force also nabbed, a native doctor involved in oil theft business in the Nembe creek.
The suspect who claimed to be a native doctor attached to one of the seized vessel identified himself as Adelabu Olowofuyo, an indigene of Ondo State.
The seizure which took place at Igbomatoru in Southern Ijaw council and Nembe Creek in the Bayelsa East senatorial district respectively comprised of 694 drums of illegally refined products.
The impounded vessel at Igbomatoru had 340 drums while that arrested in Nembe Creek contained 354 drums of illegal products with four suspects nabbed.
The embattled Olowofuyo, who claimed to be a native doctor and a deckhand in one of the seized vessels, told newsmen that the stolen cargo was loaded at Okoromagbene and that they were heading to Port Harcourt when they were incepted by men of the Joint Task Force on patrol.
Olowofuyo who claimed to have joined the syndicate about three weeks ago said they were eight on the trip and that seven other crew members jumped into the creek on sighting the JTF patrol team and evaded arrest.
Parading the native doctor and eleven other pipeline vandals as well as the two seized vessels before newsmen at the Government Jetty in the creek of Yenagoa, the Joint Task Force Commander in the Niger Delta, Major General Charles Omoregie described the seizure as the biggest haul since he assumed command of the outfit two months ago.
He said in addition to seized products, four suspects were also arrested in the Nembe creek adding 'the suspects for the seizure in Igbomatoru abandoned their consignment and jumped into the river at the sight of the JTF patrol boat.
Lamenting the harm being done to the nation economy and the pollution of the environment by crude oil thieves, the JTF Commander said the sample of the content would be sent to the NNPC for test and that the suspects and consignment would be handed over to the Economic and Financial Crimes Commission for prosecution.
'The aim of this anti-illegal bunkering campaign is to seize, destroy the illegal products and prosecute the offenders, but not to kill or maim anyone and this explains why the troops did not go to the extreme to arrest those fleeing suspects,' he said.
He also disclosed that the outfit has established a legal department saddled with the responsibility of prosecuting those involved in crude oil theft and other economic sabotage.