Waku To GEJ: Drop Your 2011 Presidential Bid or Go To ANPP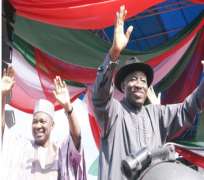 KANO, Dec 15, (THEWILL) – Senator Joseph Waku has asked President Goodluck Jonathan to drop his bid to contest the 2011 Presidential election arguing that there are rules and regulations governing any legal institution or political party and that the PDP should not be an exception.
Waku said his advise to President Jonathan is hinged on the ruling of a court which established that there is a subsisting zoning arrangement in the PDP, which he insists, must be adhered to in order to stabilize the polity.
Senator Waku, who was a member of the upper legislative chamber between 1999 and 2003, told reporters in Kano today that and that even market women and professional bodies have their operational rules, which usually guide them.
"The Constitution of the Federal Republic permits Jonathan to run for election, but the Constitution of the PDP insists on zoning. So if you are disciplined, you must abide by the principles and regulations of the organization you are leading. Nobody kicks against him from becoming President. Fine, Nigerians want Jonathan to rule them, but the rules governing the party does not permit Jonathan to be President. Therefore, he should quit and join another party that does not regard zoning. For example in the ANPP, there is no zoning, so if he wants he should cross over to ANPP to pursue his political ambition.
"The far reaching implication of what is happening in PDP today is that if Jonathan emerges the President, he should not be trusted. If he goes into international bilateral agreements with any nation, he would not be trusted because he has failed to uphold the rules governing the agreement he has gone into with another nation. So he cannot be trusted. That is the inherent danger," Waku said.
He added that if he succumbs to the whims and caprices of the masses, his action would amount to gross indiscipline, which does not speak well of the President and advised President Goodluck Jonathan not to succumb to the perceived pressure by some unscrupulous politicians who he alleged are bent on plunging the PDP into crisis.
"Nigerians have a choice; there are several political parties in this country, with credible Nigerians who have international respect and acceptability. We should therefore go for them. PDP is not a religion, and even religious people change, left alone an organization that was put together.
"It was me, Sen. Joseph Kennedy Waku and the late Alhaji Abubakar Rimi who registered the Peoples' Democratic Party PDP on August 7th, 1998. You can quote me anywhere. This was not the concept. It was an organization put together by decent people not dishonest Nigerians" Waku added. On the Northern Political Leaders Forum (NPLF) Consensus Candidate of the Peoples Democratic Party (PDP), former Vice president Atiku Abubakar, Senator Waku described his choice as the restoration of hope to the nation's polity.'