AMAECHI CREATES BRAND RIVERS STATE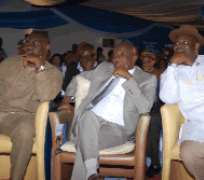 • L-R: Hon. Magnus Abe, Secretary to Rivers State Government; Hon. Amaechi, Governor, and his Deputy, and Engr. Tele Ikuru, at the state's Brand Unveiling.

Worldwide, cities and countries are adopting branding strategies similar to famous brand names in an effort to create competitive advantage and emotionally connect with potential investors and tourists. For decades this practice has existed, but more recently, it has become a vogue and a deliberate means of positioning and re-positioning a destination in the minds of the public in order to elicit a favorable response.
Nigeria had its first taste of destination branding with the Heart of Africa initiative which eventually dovetailed into the Re-branding Nigeria project. During the FIFA Under-17 World Cup last year, the Lagos State government tried to play up the potentials of Lagos as the premium destination for business and leisure. But this campaign was short-lived as it simultaneously ended with the World Cup.
The World Cup was held in seven Nigerian cities. But Lagos, the undisputed commerce cum financial nerve-centre of Nigeria stands out among these other match centers as one that best offers huge business potentials which foreign and indigenous investors can tap into. The State government probably realized this and quickly moved to maximize the additional opportunities that such a passionately followed global event could attract to the Centre of Excellence. A branding campaign aimed at redefining the city as an investment hub was unveiled. But was the campaign impactful? How many more investors and tourists did it attract to the state within this period or even after? Was it then wise to have invested in a campaign that would be discontinued just when it was only beginning to be noticed?
On December 1, 2010, the second largest economy in Nigeria followed suit. Rivers State was reinvented as a brand in a big way accompanied by a comprehensive brand tool kit with a five-year plan. This brand plan seems professionally systematic and elaborate. Rivers now boasts of a new brand identity, message and promise. There is indeed a determined effort to change the image of Port Harcourt, build a fresh brand, and increase business and visitorship.
'From this day, a new energy is sweeping across Rivers State. It carries with it the consciousness of change, renewal and a brighter tomorrow.
From this day forward, the new Port Harcourt, Rivers State will be visible to all in specific and general terms; a Port Harcourt with an identity that captures the vibrancy, dynamism and potential inherent in us all; a place that inspires you to be part of a collective vision- to make tomorrow's dreams, today's reality', stated His Excellency, Rt. Honourable Chibuike Rotimi Amaechi, Executive Governor of Rivers State at the unveiling ceremony of the new Rivers State brand organized by Verdant Zeal.
Rivers has been created into a brand and the new brand's message is simply 'change today'. According to Governor Rotimi Amaechi, from December 1, change will no longer be an intangible concept but will be evident in the level of infrastructural development; building of schools, medical facilities, and tarring of roads.
The state's brand message is all embracing and the responsibility of all indigenes. Governor Amaechi engaged his people, 'From this day on, we will take responsibility for the development of our state; its successes; its investments, its progress and its destiny. In order to achieve these, we must change our perspectives, our belief systems and our expectations. From today, change will have a new meaning. It will represent our ability to harness our State's potential and position us as a friendly and welcoming people. Change will be our expression of how we celebrate, dance, sing and most importantly how we share.'
What is Rivers State message?
'We are asking people to come to an unexpected place. A place where untapped potential thrives, with a welcoming culture that's fresh and dynamic. It's a place where you will be inspired to be part of something big, with one vision- to make tomorrow's dreams, today's reality', The Commissioner for Information, Mrs. Ibim Semenitari said.
But all these while, Rivers has been regarded as a unique destination in the country. It has been an admired state, a place people love to visit. Before it became the vogue for states to have tagline planted on the new Federal Road Safety Corps plate numbers, Port Harcourt has since been known as the 'Garden city' or 'Oil city', a posture that had endeared it to the Nigerian people. So, what has necessitated this change?
Semenitari said Port Harcourt was a Garden City by happenstance. In her words,' We are creating a brand because up till now everything that happened was by happen stance. It was 'Garden City' by happenstance, there wasn't any deliberate attempt on brand creation. Brand creation instigates brand proposition, which is now what the world is all about.' Besides all these, she explained 'We had lost the grace in Port Harcourt. There was violence, there was a lot of garbage on the street and quite frankly, investment was leaving the state. We had begun to loose the values that we had as a people. We needed to change all these things.' According to her it was based on these unpleasant experiences that it became critical to reinvent Rivers State.
The commissioner stated that we are in the era of a new world and a new economy where states should be seen as brands and challenged to state their brand promise.
'So for us at Rivers State, it was critical to create a destination brand that states here is the place to live, work and do business. A place where investment is safe, a place where you are happy to be and a place of collective engagement. For us today that is the brand promise that River State offers a place of collective enrichment.'
Seven brand consulting firms were invited to bid for the strategic creation of the brand. Blank Consulting firm of South Africa eventually won the account.
From all indications, the Rivers brand is no longer just about oil. Its brand features have been further expanded to improve the quality of life.
'It's not just about gas, it's also about people, land, health, education, agriculture, infrastructure and laws that are investment friendly', the Commissioner stressed.
A fresh Rivers brand had been created with a logo signifying its new identity.
The state's God's given natural resource which also doubles as the brand's elements have been summed to make the logo. The logo designed in blue and white colours is round in shape depicting a global status.
Within the logo are creeks that make up the Niger Delta shaped like a tree. The state's various brand elements like the land, fora, culture, oil, gas and housing are encapsulated in the logo.
Semenitari recounted that Rivers is the only state that is truly delta.
The logo which is similar to Unilever logo appears too clustered with so many brand elements with nothing standing out. The logos of great brands in every industry are anchored on a singular message. The same thing applies to destinations. The brand architect of Rivers State brand in a bid to capture the potentials of the state condensed a considerable number of the brand's natural resources which rendered the logo almost meaningless at a first glance. It would require a closer look for a first timer to understand the components of the logo.
For the Governor Amaechi, the logo is the state's new identity; a veritable characterization of the vibrant state. 'Our new identity is a symbol of hope, potential and a promise of a new day, a new way- today. The various icons creating the logo symbolize the components or elements that make up the uniqueness and richness of the people of the land. It is not one thing but many; it is not limited but defined by limitless potential. Being a state that is not defined by tourism, the state is represented by the elements that make it successful, such as business, community, trade, resources, and people.'
What are the assets of these brands?
Semenitari lists the state's strengths.
'No primary school infrastructure anywhere can beat our primary schools. We can beat our chest and say that nobody is doing over 900 kilometers of road in the entire country. As we speak, we have five fly-overs and 33 bridges ready for commissioning.
We are building 160 health centers with over 70 completed and we are still counting. We set the pace and other states follow. We have launched a 60:60 health care project that will enable us launch 60 health centers in 60 days.'
The state has an on-going 60 billion Naira rail project and has built three power stations and seven transmission stations.
The Rivers brand building strategy is backed by an elaborate tool kit with a five-year plan of execution regardless of whether the present governor is there or not. The first two years will be dedicated to creating awareness amongst the people to get everybody on the same page in conveying focused and consistent messages of the state.
'Primarily, we will be focused on information sharing, we will be sharing the campaign objectives, we will be sharing the process and all other things involved in the change message. We will deal with various brands eroders that could hurt the brand. When you have a brand people will always find a way to confuse that brand. When you say change today and you say Port Harcourt is a destination. Someone kidnaps in Abia and they say Abia via Port Harcourt. So you want to tackle such brand eroders when you are creating a distinct brand identity of Port Harcourt and then Rivers State. People can then identify Port Harcourt as distinct from Cross-River and Abia states. So it's necessary to deal with these brand eroders.'
Asked to elaborate more on other possible brand eroders, she declined, stating that part of what you don't do in branding is re-enforcing the brand eroder.
The next phase of the brand creation is participation and involvement of the people in the change process scheduled from year three to five. At this stage the Rivers State's people will be challenged to be instruments of change.
But how is this brand management strategy of Rivers State spanning five years going to be achieved? Soon, elections will be held. If Governor Amaechi wins, will he continue from where he stopped? Change is constant and needs of people, cities, states and countries oscillate from time to time with new trends and developments. A new Rivers State executive council may be formed with new commissioners overzealously trying to push through their own agenda while their predecessors' works are tossed into the drawers. If Governor Amaechi is not re-elected, that would mean the immediate demise of the branding initiative because experience has shown that our leaders are not interested in furthering their predecessors projects.
There is also the fact that bureaucracy coupled with multi-levels of administration can also militate against a successful branding campaign. For very flimsy reasons, the branding budget could be slashed at very critical stages of the campaign to cater for other seeming frivolous projects. Any of these developments could halt the continuity of this branding project.
Semenitari is said that Governor Amaechi will be reelected because the people are impressed with him. She, however, noted that the brand tool kit is in the custody of the Director of Public Enlightenment and Press Affairs of the state's Ministry of Information, that is for ever permanent. But yours truly believes that these gentlemen work on directives from their boss, the Information Commissioner, who in turn works under the direct supervision of the governor and the brand project may no longer feature in the work agenda.
However, the brand tool kit if successfully implemented, will foster a unified and cohesive approach to build the state's reputation and create a prosperous business climate within the state.
Rivers brand management strategy is professionally packaged and best so far in Nigeria in state branding.
Destination branding is becoming the buzz word world over. The reputations of cities in which we live, study, work and do business matters. An attractive and positively distinct identity makes it easier for a city and its citizens to be preferred by visitors and the citizens respected when they travel out.
MARKETINGmatters congratulates Governor Amaechi for taking the right step in the right direction.