WIKILEAKS REVELATIONS SEXED UP – PRESIDENCY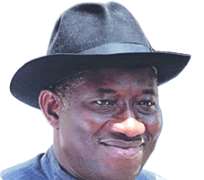 •President Goodluck Jonathan
The Presidency has described Wikileaks report giving account of President Goodluck Jonathan's meeting with former United States Ambassador, Robin Sanders in the wake of late president Umaru Musa Yar'Adua as a sexed up version of the standard conversation that takes place in such diplomatic meetings.
A statement signed by the Special Adviser to the President on Media and Publicity, Ima Niboro, described the account as wholly unfortunate and inaccurate.
Wikileaks, an online publication owned by Julian Assange, currently facing rape age in the United Kingdom, released a report on the confusion and power play that was going on during Yar'Adua's ill-health, his disappearance and reappearance after three months.
Besides Nigeria, Wikileaks has released vital and incriminating information on some other countries including the US. The report portrayed Jonathan as a perturbed acting president who bared his mind to former US ambassador to Nigeria, Sanders. Niboro stated that Wikileaks was the new travesty that international diplomacy had to deal with and that Nigeria was no exception.
According to Niboro, 'the point to be made is that the accounts of meetings between President Goodluck Ebele Jonathan and US diplomats are essentially third party narratives, and are largely inaccurate.
'The president, in those tempestuous days during which the nation tottered on the brink, held meetings and then more meetings, with different groups, the diplomatic community inclusive.'
The presidential spokesman said the president had met with different diplomats and special envoys who had offered different suggestions on 'a way out of the impasse that our late leader's health had imposed on the nation.
'We note that this account is largely silent on these suggestions. Rather, what is served up is an unfair account severely impacted by selective perception and individual expectations.
'For instance, how can it be said that a man who had been a deputy governor, an acting governor, a governor, a vice president, and then acting president could have described himself as lacking in administrative experience?' he asked. 'That the president holds a Ph.D, was a lecturer for 10 years, and was an assistant director at the defunct Oil Mineral Producing Areas Development Commission, do not make the statement less rankling.'
Niboro concluded by pointing out that 'this only goes to show that the report itself is a souped up version of the standard conversation that takes place in such meetings.
'We find this account as wholly unfortunate and we are only employing the best of diplomatic finesse in that statement.'