SAMBO SPITS FIRE ON NORTH'S CONSENSUS CANDIDATE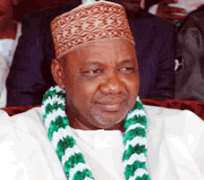 Vice President Namadi Sambo has disclosed that the Peoples Democratic Party (PDP) does not recognize the Ciroma's nine-man team that selected former Vice President Atiku Abubakar as North's consensus candidate.
Speaking in an interview in Kaduna yesterday, during the re-opening of the United Nigerian Textiles Plc (UNTL) that was closed down three years ago, Sambo said that from his understanding, there has not been any consensus candidate, 'there was an election where few people were self-appointed.
'We don't really recognize that activity. In PDP, we believe in the rule of law, all parties have their constitutions and procedures for electing aspirants and candidates.
PDP will follow that avenue for the necessary stages of conducting primaries or selecting a candidate for the presidential election.
'I can confirm to you that PDP will take the constitutional avenue and President Goodluck Jonathan and myself have declared to continue this good job.
'People in whose tenures these industries were closed down want to come back so that they will close more industries. I am telling you now without any doubt that our programmes are the right ones and today we have indicated that President Jonathan is a graduate, a doctorate degree holder, a scientist and myself an architect will continue to design to develop to construct and until we see that we develop this country to the most developed and one of the most industrialized nations in the world.'
Sambo further stated that, today marks a watershed in the history of textiles revival effort in Nigeria as a topmost priority to President Goodluck Jonathan's administration. He stressed that the revival of UNT Plc. in Kaduna is particularly a dream come true and it is a fulfillment of a journey he had commenced even at the state level.
The VP also disclosed that the problems of the textiles industry informed the approval by the federal government to the Federal Ministry of Finance to raise and disburse N100b through the Bank of Industry, cotton, textiles and garment development fund through a bond issued by the Debt Management Office (DMO).
In his remarks the Vice President of the Nigeria Labour Congress (NLC) and General Secretary of National Union of Textiles and Garment Workers of Nigeria, Comrade Issa Aremu said that re-opening of UNL Plc. is the opposite expression of what was felt when the company was closed down three years ago.
He stated that as trade unionist, they are trained to condemn all the imperfection in the system, 'but today we are delighted by the gesture of the Vice President to re-open the industry.
'He is the first governor to come up with a special committee on the revival of moribund textiles industries which he had carried along to the present office as Vice President and today, we are bringing back jobs and investments that have been lost.' Comrade Aremu said.