LIGHT DIMS ON THE LIGHT MAN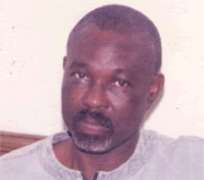 Late Marinho
It was another moment of grief last week as the theatre world lost yet another gem in the transition of Dr. Sumbo Marinho, former teacher and Technical Director at the University of Ibadan.
From far way United Kingdom, words came form Dr Sola Adeyemi of Leeds University, UK, that the theatre technician had breathed his last at aged 68. His unexpected transition was trailed by shock, and tributes mostly from his students and colleagues in the theatre circle. Many of these mourners remembered Marinho for his outstanding records, one of which was having served as consultant to the Lagos-based sound and lighting outfit, Z-Mirage Multimedia Company.
The late Marinho was better known as Sango by his students at the University of Ibadan, and his teaching career which spanned over three decades before retirement saw him as a rare professional in his chosen field.
As a leading technical artiste of his generation, Marinho was versatile in several fields of the theatre. He has recorded successes by contributing meaningfully to many stage, television and film productions. Among these were Wole Soyinka's Kongi's Harvest, directed by Ossie Davis in 1970 and Femi Osofisan's Aringindin and the Nightwatchmen, which he directed in 1987.A comtemporary of Tunji Oyelana, Kunle Bamtefa and the late Dr Femi Fatoba, Marinho also co- produced the then popular sit-com, Sura de Tailor, in which he played the role of Major.
Meanwhile, Prof. Segun Ojewuyi, Head of Directing Southern Illinois University, Carbondale, USA, a student of the late Marinho, urged peopl, sayinge not to be sad 'Death is a certainty and sad as it may, Uncle Sumbo lived a very good life…a very productive and impactful life. His 'Lights' will glow in many lives for a long time. It is time for us to celebrate his artistry, courage, humility and generosity! He was a leader, an exemplary citizen of our country Nigeria. His star was well crafted and is now glittering up in the heavens.'
Also, Dr Sola Fosudo, Head of Theatre Arts and Music Department, Lagos State University. In his words, 'it is sad to hear, but the truth is that Dr Marinho lived a professionally fulfilling life. He mentored many and some of those he touched their lives are doing well today. For me that's what life is all about… Touching lives through service to God and humanity.'
Born on July 16, 1942 to Anthony Joaquim Akinlola Marinho and Abebi Suebatu Adewale, Marinho, he attended St Paul's Primary School, Ebute-Metta and St Gregory's College, Ikoyi, Lagos. He proceeded to University of Ibadan, Theatre Arts Department where he graduated in 1967. After a stint of professional practice at Mbari Club founded by Prof. Wole Soyinka, he took up employment in the Technical Unit of Theatre Arts Department where he established himself as a master of the craft of stage design, construction and lighting.
On retirement, he joined his former student, Alhaji Teju Wasee Kareem, to establish Z Mirage company where he remained until his death. He is now survived by his children, Dolapo and Matthew Holmes, Akinola and Sarah Marinho, Ibisomi and Akinkunmi Akinlawon, his grandchildren and his loving wife of many years, Olabisi Amoke.