2011 POLLS: JEGA CAN'T DELIVER , SAYS BALARABE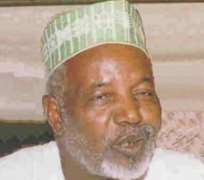 Balarabe
Former governor of Kaduna State, Alhaji Abdulkadir Balarabe Musa, has said the Independent Nationala Electoral Commission (INEC) Chairman, Professor Attahiru Jega, cannot produce credible process that can lead to free and fair elections in 2011.
Speaking in an interview with newsmen at a talk show on Nigeria's 50th independence anniversary organised by the Nigerian Association of Women Journalist (NAWOJ) in Kaduna, at the weekend, Musa also said, 'the only way we can get credible electoral process, free, fair and transparent elections and a legitimate government was through the people exercising their power, either through the electoral process.
Responding to whether the arms coming into the country were a means to rig 2011 elections, he said, 'It is not for them to rig; they are preparing for war. In case people protest against the move to rig election, both the government and the some elements against them are preparing for war.'
'The rich and powerful thieves are preparing for war.
These people who have brought Nigeria to its knees through corruption stealing and criminal waste of resources would do anything to continue their exploitation of the people and they would use any means even if taking up arms against the government which is as greedy as they are, like the drug barons are doing in Mexico, people in Nigeria will import arms even to fight among themselves in government.
'They would also use these arms to fight Nigerians at the elections or any time Nigerians want to demonstrate and the government cannot do anything about it. 'The country's leadership can only be changed constitutionally through election by a massive vote by Nigerians, people of integrity and unquestionable characters that are ready to ensure total transformation in all spheres of human endeavour thereby ensuring the desired change needed in the country. '
He noted that high level of corruption had enslaved women and youth in the country as a result, leading to lack of basic social amenities and conducive living environment.
'Therefore, the root cause of the travails of women in Nigeria as elsewhere, lies in the privatisation of women's role in the society and their virtual exclusion from the public sphere while the advent of exploitative private property and capitalism with its echoes on profit and material possessions, changed everything thereby becoming property of men.
' Women constitute about half of the country's population while their contribution to the economy and society far outweighs their numerical proportion. 'The system in place was one of the self interest rather than that public interest that is meant for the general good of the people' Musa noted.