Muma steps out with hubby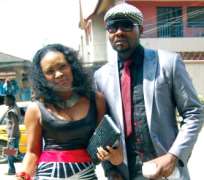 She has not really come out to say she is married but now, it is no longer news that sensational diva, Muma Gee, has changed her relationship status from single to married.
The Kade crooner is now finally hooked to an actor known as Prince Ekeh.
He might not be in the A-list actor category, but Ekeh knows his stuff in the make-belief industry and has featured in some flicks, which have brought him commendations.
Though, already done with the traditional marriage, it looks as if Muma and her hubby do not want many people to know that they are an item. Both of them were at an event recently, but were still 'hiding' the fact that they were together
According to a source, who was at the event, the couple tried to act as if nothing was between them, but when they discovered that nobody really paid much attention to them, they decided to act true to their new status by paying close attention to each other.