UDUAGHAN GONE FOR EVER – OGBORU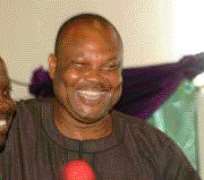 Ogboru
Ahead the rerun governorship election in Delta State, Democratic Peoples Party (DPP) gubernatorial candidate, Chief Great Ogboru, has dismissed insinuations from ex-Governor Emmanuel Uduaghan's PDP camp that he has no structures on ground to win the crucial election billed for early next year.
Ogboru, who spoke on phone with Daily Sun in Warri, yesterday described the insinuation as baseless, unrealistic and senseless, arguing that God has already given him the mandate to rule Delta State and take it to the promised land.
'I will not mind them because they have not realized that Dr. Uduaghan is gone forever. However, I wish to use this medium to tell my supporters to remain focused before and after the rerun election,' said Chief Ogboru who promised to give the PDP a good fight during the election. He added, 'we shall see and I congratulate them in advance.
Also speaking on the election that has started brewing tension in the state, the member, representing Warri Federal Constituency at the House of Representatives, Hon Daniel. Reyeneju called on Deltans to see the Court of Appeal verdict as a call to action.
While urging for calm within the state, Reyeneju said, 'We shall be happy that the ruling is devoid of ambiguities but clear and definite and do not need further judicial interpretations. 'However, we have to organize to confront this immediate challenge but not confrontation.'
The legislator said consultations were in top gear, stressing that Dr Uduaghan must come back to Government House, Asaba. Reyeneju argued that the Uduaghan administration had done so much for the people of the state by spreading infrastructural development to the 25 Local Government Councils in the State.
He particularly lauded the ex-Governor three-point agenda which borders on peace and security, and Human Capital Development. These, he said were the tonic that put Delta among the progressing states of the federation.