ENTERTAINMENT PARK PLANS XMAS GROOVES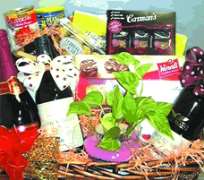 In order to help usher revelers, families and their loved ones into the mood of the forthcoming Christmas season, Entertainment Park, a pristine and dynamic entertainment outfit will be offering a one day getaway for hard working Nigerians who have little time to enjoy the good things of life.
According to them, the event tagged: Reunion Ball, is what many Nigerians deserve as it will avail them the opportunity to relax around a natural atmosphere.
The chief coordinator and chairman of Entertainment Park, Mr. Olanrewaju Oluwaseyi, in a recent chat with us, explained that the event will hold on December 18, barely seven days to Christmas. He also disclosed that five luxury boats will be used to convey guests from Walter Carrington Crescent, Victoria Island to a pleasure destination. 'After a leisure ride, guests will be treated to music and lots of fun games at the Taqwa bay beach.
For the first time, in Nigeria, Entertainment Park will at the Reunion boat cruise, introduce the miniature golf game. The game which is a choice sports on many beaches across the world will be made available to guests at Taqwa Bay beach.'  Speaking further, Olanrewaju disclosed that the games will be played for free, as the tickets had already covered the cost of every game. However, for those that want exclusivity and reserved sports, the VIP section, which costs a token, will be a suitable option. He also revealed that tickets are sold at the Silverbird Cinemas, Ozone Cinemas and SS Lounge, all in Lagos.
Also speaking, Sodunke Ololade, the marketing director, explained that although the event was privately funded, she however, implored corporate bodies to take advantage of the Reunion ball by coming on board fully. 'It is not only about sponsorship, it is also about getting their staff who had worked pretty well throughout the year to take part in the cruise and party afterwards.'
Kas, the 'Fimile' crooner will thrill at the groove. He will be ushered on stage by Deji Falope, the popular MTN yello, and Malta Guinness Street Dance anchor.