SEIZED ARMS: SSS GRILLS IRANIAN SUSPECT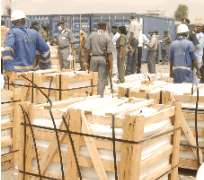 A senior State Security Service (SSS) operative yesterday confirmed to Daily Sun that the Iranian suspect held in connection with the importation of 13 containers of arms and ammunition into the country was giving useful information at its headquarters in Abuja. The source, which did not want to be identified, said the suspect was brought into the SSS office at about 3:00 p.m. and had been cooperating with its officials during interrogation.
However, he declined to give details, promising to make findings public at the appropriate time. The SSS had last Friday, insisted it would not interrogate the suspect inside the Iranian Embassy in Abuja.
It was learnt that Iran had reneged on its earlier pledge last Thursday to allow security agencies to probe the suspect. In the last two weeks, the Iranian suspect had been holed up in his country's embassy in Abuja. The impasse had led to a shuttle to Nigeria on Thursday by Iran's Minister of Foreign Affairs, Manouchehr Mottaki, where he had talks with his Nigerian counterpart, Odein Ajumogobia.
As part of the high-level talks, Iran had accepted that it would allow the Federal Government to have access to the suspect. But barely 24 hours after, Iran was asking the SSS to come to its embassy in Abuja for the interrogation of the suspect. Meanwhile Nigerian officials had last week said they would report Iran to the United Nations Security Council if they found evidence that an illegal arms shipment allegedly originating in Iran broke international law and UN statutes.
Ajumogobia had disclosed this when he met with his Iranian counterpart, Mottaki to discuss the arms shipment. Ajumogobia said Mottaki allowed Nigerian officials to interview one of two Iranians implicated in the arms shipment.
The cache of weapons, including rockets, rifle rounds, grenades and other explosives, was seized by Nigeria's secret service two weeks ago in Lagos.
Israeli officials had claimed the weapons were bound for the Hamas-controlled Gaza Strip. But a Hamas leader in Gaza denied the weapons were headed to Gaza. Nigeria has been on alert since a bomb blasts in Abuja on October 1, killed 12 people. The Nigerian militant group, the Movement for the Emancipation of the Niger Delta (MEND), had claimed responsibility for the attack.