SUCCOUR FOR DESTITUTES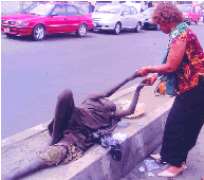 Felicia Martins dumped her law programme at the Lagos State University (LASU) 10 years ago to answer the divine call of giving succour to the mentally challenged people and destitutes on the streets of Nigeria. She handles scums of the earth in a manner that proves that she is divinely inspired for the unique assignment. In fact, she goes out on the streets with her team searching for these people with special needs.
When Martins took the unique decision to dump her studies and play the good Nigerian, many could not understand her. While some saw her as someone who was being propelled by the spirit of insanity, some thought that she was frustrated in life, as she was busy running after the insane and the destitute. But she never relented in carrying out the charity work, having known where she was going.
Her organization, Society for the Safety of the Insane and Destitute (SO-SAID), has acquired prominence in its unique role of aggressive search for the insane and destitute to rehabilitate. It has contributed immensely in ensuring a- destitute and insane free nation. Due to its activities, it is believed that there are fewer mentally challenged people and destitute now on the streets. However, some people may be wondering about the safety of these special people. The fact is that they are safe and undergoing rehabilitation at the various SO-SAID homes in different states in Nigeria.
A visit to Martins' offices at No 64, James Igbe Street, Awodi Ora in Ajeromi Ifelodun Local Government Area (LGA), Lagos and 45, Owolabi Street, off Ago Palace way Okota, Lagos showed that they are in safe hands. Some of them have started regaining their senses. It was gathered that after rehabilitation, some of them are taught some trades before being integrated into the larger society.
The charity home, which was founded in 2000, has removed about 392 insane and destitutes from the streets and reunited 179 with their families. Presentl, about 213 of them are undergoing rehabilitation at the SO- SAID centers. Among the 48 children in the home, scholarship had been sourced for 40 while the remaining ones are still waiting for their turn.
Explaining her mission and vision, Martins said: 'SO-SAID started through the inspiration and revelations I received. Other signs like illness, worries, failures in business, passion for lunatics that followed also proved the fact that God called me into this aspect of life. God spoke to me through dreams that those who are mentally challenged should not be seen as having the worse problems that God cannot solve. And after the dream, I started by calling about 20 people, who willingly contributed money for me to buy food to distribute to the insane people and destitute on the streets on weekly basis.'
When asked whether she uses charms to capture the insane or handle their cases, she smiled and said that God uses her to accomplish the task. Debunking the believe that she uses charms, she said: 'I cannot say exactly how everything is done but all I know it is that I am doing what God asked me to do and He empowers me to do that. You know, with God all things are possible.'
According to her, after sometime, a voice spoke to her, that it was time to shelter the insane and destitutes with their offspring. In the course of looking for the shelter, she met the late Oba of Imore, Alahun Okikiola, who gave her a piece of land behind his palace.
She continued:' While we were there, a tree fell and killed two of the destitutes and that made us to be on the streets for eight months before one Chief Dada Onijomo helped to relocate us to No. 64, James Igbe Street Awodi Ora Estate, Ajegunle. Lagos. There, we have been before the Lagos State Government order to demolish structures close to canals came in 2008. When we raised alarm, Governor Fashola donated 15 plots of land to us at Ganyingbo Village in Badagry. Also, a philanthropic family, Mr & Mrs Mike Osime rented a duplex for us at 45, Owolabi Street, Okota.'
But the story has changed as the owner of rented apartment wants the charity organisation out of his property. This, in turn, calls for urgent need towards saving the lives of the rehabilitees.
'We are being asked to vacate the place we are occupying. And that is why we decided to develop our 15 plots of land. With the proposed plan, the building project will cost about N500million. It is designed to enable the organization achieve its vision of building a befitting home for the mentally challenged people and sundry destitutes in the country. We are calling on public spirited individuals and organizations to support us in building the charity home, which will be of immense benefit to the society at large. The Lagos State Government has tried by donating the plots to us, they also made a cash donation during the recent launching we organised. Others also donated, but we are still expecting more to realise our dream', she appealed.
Saturday Sun also met with some of those who have been supporting the activities of SO-SAID over the years. Engineer Abuchi Iwuji, one of the patrons, described the charity home as a wonderful place where God is showing his power of healing. He volunteered: 'I believe there are so many ways of serving God and Mrs Felicia Martins has been chosen by God to serve Him in this way. There are so many talents and visions. The good thing about the woman is that she has discovered her vision. In fact, she is a wonderful woman. I have been with them for a long time. And God has been able to strengthen us to go this far by contributing in our own little way. If you visit the home, you will really appreciate the kind of person Mrs Martins is. For going out to pick people who had been written off and bring them back to life, she has distinguished herself. Due to the nature of insanity, which is spiritual, some people always ask me weather she has a shrine in the place. But I tell them that there is nothing like that, She is really doing the work God called her to do.'
Also, Elder Mrs Charity Ugomma Ubaka, a matron of the home, described the place as where God is showing his supernatural power.