JONATHAN IS CHOICE OF SOUTH – WEST, SAYS OYINLOLA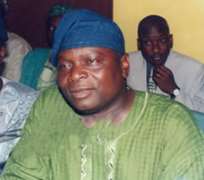 As for the South-west, President Goodluck Jonathan and Vice President Namadi Sambo would be the Peoples Democratic Party's candidate in the 2011 presidential election, the Governor of Osun State, Prince Olagunsoye Oyinlola has said.
The Governor spoke yesterday in Osogbo, the state capital during a courtesy call on him by the Director-General of the Goodluck/Sambo Campaign Organisation, Senator Sarki Dalhatu Tafida. He said the South-West leadership of the party had decided earlier in the year that it would support Jonathan in the impending contest for the PDP presidential ticket.
'We have considered carefully all the contestants and have come to the conclusion that the Goodluck/Sambo ticket is the best option for the region,' he said.
He asked the Goodluck/Sambo campaign not to dissipate too much energy on the South-West because the region had made its choice clear to everyone. 'We have decided; we are sure of the direction we are going; and there is no doubt about who we are supporting,' he stated emphatically. Oyinlola also clarified as misconceived, media speculations about his support for former military president, Gen. Ibrahim Babangida, saying he could not go against the general will of the party in the South-West. 'Once we have decided as a group, there is no room for individual preferences,' the governor who was flanked by his deputy, Erelu Olusola Obada, and Senator Tafida, said.
Also in the governor's welcome party were the Speaker of the Osun State House of Assembly, Mr. Adejare; the senator representing Ife/Ijesa district, Senator Iyiola Omisore, and the party's governorship candidate in 1999, Senator Olu Alabi. The campaign director-general who was accompanied by a team of 12 had sought the support of the governor and party machinery in the state for the President, saying the Goodluck/Sambo ticket would stabilize and transform the country.
Tafida applauded Jonathan for stabilizing the country and said he and his deputy were better equipped to take the country forward. 'They are uncontaminated by the mucky politics of our past,' he said. The campaign director-general updated the governor on the team's tour of the North and said that it found that the talk of Northern opposition to the President's aspiration is false. 'Everywhere we went we received assurances of support. We are sure of 18 of the 19 states in the North and 70% of its delegates, Tafida said, adding that the campaign expected total support from the South-West.
The campaign delegation later met with stakeholders, including party leaders, statutory delegates as well as religious leaders in the state, seeking their support for the aspiration of President Jonathan.