2011: CLARK DECRIES CORRUPTION IN NIGER DELTA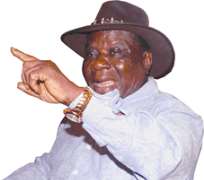 South-south leader and former Information minister, Chief Edwin Clark has lamented perceived high level of corruption by public office holders in the oil-rich Niger Delta region, describing the menace as the bane of underdevelopment in the area.
The Ijaw leader decried the uncaring attitude of the public officials to the plight of the governed, saying unrestrained misapplication of resources to the detriment of the people was worse than 'external oppression.'
Clark, who spoke at his Abuja residence over the weekend, while playing host to a Peoples Democratic Party (PDP) governorship aspirant from Bayelsa State, Mr Alfred Agbedi, advised that those found wanting should be voted out of office by the electorate in 2011 without prejudice to their positions and party affiliation.
According to him, the first duty the people of Niger Delta owe themselves in the coming elections was to distinguish between the good and the bad, with the aim of deciding where they wished to pitch their tent.
Said he: 'All over the Niger Delta region, people are crying daily of the attitude of those who got to positions through their votes, we hear cries of mis-governance, poverty, oppression and the rest and I say to myself, are these not the same people who will still be relied upon for office seekers to either return or seek election in 2011?
'Quite honestly, it very bad and highly disappointing that issues of marginalization and oppression, intimidation and the rest can be experienced in the Niger Delta region.
'If as a people, we cry of marginalization and oppression from majority ethnic groups ,why are we perpetrating same against our people in our region, to my mind such attitude is worse than external oppression. 'In my own opinion, something has to be done about this in that region so that public office holders will always remain accountable to the people rather than seeing themselves as above the people who voted them into offices.
'To be candid, our people have the first moral duty to themselves by ensuring that their votes go to those who they think can best represent their interests and serve them better and the only way to achieve this is to distinguish between good and bad leadership with the aim of voting out those who have been found wanting and providing opportunities for those they think can do better.
'If our governors are corrupt, National Assembly members, ministers and even state lawmakers are corrupt, we are duty bound to reject them at the polls no matter their political affiliation because such people have no business being in government if they cannot improve the living standard of their people, if they can only use the powers given to them by their people to marginalize them, because if you do not, as a public office holder, improve the living standard of the people who elected you, you are marginalizing them.'