Olu Maintain, Eunice Efole still an item?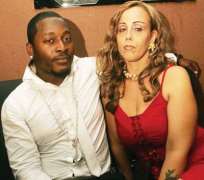 Yahoozee crooner, Olu Maintain, is a guy many ladies still wish to have as their partner.
He is still single, but some people don't know if he is searching. In recent times, he has been identified and seen together with Lagos big gal, Eunice Efole.
It was alleged that both celebrities are now an item. But recently, Olu, in an interview he granted to a soft-sell magazine, described Eunice as his "very good friend," saying there was nothing intimate between them.
However, some people are still wondering how true the statement is as both of them are still having the fun of their lives together.
We caught the duo in a club recently and of course, they were having a ball. Even then, some busybodies were still asking if Eunice was the latest babe in the life of Mr. Olu