Saidi Balogun scores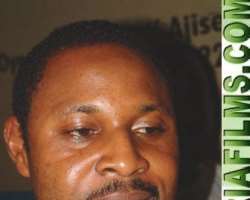 Anyone who has been following Saidi Balogun's inspirational journey in the nation's movie industry, otherwise known as Nollywood, in the past years would not be surprised at the buzz generated by the premiere of his latest artistic effort, Eti Keta (Third Eye), on Sunday, October 24.
Obviously because of his acclaimed creativity in such movies as Gbogbo Ere, a three-cast movie; Modupe T'emi, a two-cast movie; and Oba Asa 1 & 2, a 100-cast movie, a lot of people had thronged the prestigious Anchor Event Place, Agidingbi, Ikeja, Lagos State, to be part of history, as Balogun, popularly called James Bond, unveiled another record-breaking movie in which the entire cast members wore only
Ankara dresses. What a spectacular way of promoting African culture!
It will be recalled that the producer, during a television interview few days before the premiere, had disclosed that he had been inspired to produce the movie following an encounter with Otunba Olusegun Runsewe, the Director-General, Nigeria Tourism Development Corporation (NTDC), who, a year ago, had challenged movie producers to come up with movies that could further promote the African cultures.
In Eti Keta, screen queen and versatile actress, Kate Henshaw-Nuttal dazzles all with her impressive interpretation of her role, even as she makes her first appearance in a Yoruba movie. The movie also stars such veteran actors as Olumide Bakare, Kareem Adepoju and Jide Kosoko, among others.
Although the event started a few hours behind schedule because of the downpour, it, however, began on a beautiful note when one of the comperes, Denrele Edun, in his characteristic eccentricity, mounted the stage to kick off the event.
It was really a memorable evening, as all the guests, except one or two unapologetic ones, strictly complied with the dress code: 'Daviva' Ankara. The uniqueness of the premiere was also fore-grounded with the ambience of the hall, as all the seats and tables were draped with pieces of 'Davina' Ankara.
While the much-talked about event recorded a lot of pluses, it also reeked of some minuses.
One of the highlights of the beautiful evening was the sneak preview of the movie, which made the hall come alive. But more importantly, the event climaxed when Fuji maestro, Dr. Adewale Ayuba, mounted the stage to thrill the audience.
BABATUNDE SULAIMAN, in this report, serves you some of the behind-the-scene dramas that made the movie launch most memorable