INEC Gets Time Extension, As Senate Approves Second Const. Amendment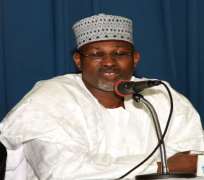 ABUJA, Oct 27, (THEWILL) - The coast is now clear for the Independent National Electoral Commission (INEC) to commence full preparation for the 2011 general election, as the Senate today overwhelmingly voted 'yes' to approve the second alteration to the 1999 Constitution, thus approving the timeline extension as requested by the commission.
The second alteration, which awaits House of Representatives concurrence, now paves way for elections to hold in April 2011, it also provides for the termination of governorship election petition at the Supreme Court, aimed at ending conflicting judgments from appeal courts on governorship election appeals.
Deputy Senate President, Senator Ike Ekweremadu who led the debate on the second amendment, declared that elections can now hold in March or April following INEC's request.
"The new set of alterations proposed in this bill is to ensure that elections are held not earlier than 90 days and not later than 30 days before the expiration of the tenure of office," Ekweremadu said.
"This leaves INEC 60 days, March and April 2011 to conduct elections before the handover date and to ensure that the nation is not caught up with the seeming constitutional and electoral quagmire.
"With this amendment, there will be a reinstatement of governorship election tribunal which the first amendment abrogated. Appeals will go to the Court of Appeal from this tribunal. Any party not satisfied with the decision of the Court of Appeal may further appeal to the Supreme Court," he added.
THEWILL gathered a total of 10 clauses were amended in the second amendment to the 1999 Constitution which includes section 76 (i) and (ii), 166 (iii), 132 (iv) and 178. Other sections amended are 232, 239 (vii), 246 (viii) and 285 (ix) and (x).
Senate President, Senator David Mark who presided over the electronic voting process, however advised politicians to be gallant in defeat, noting that it will reduce the burden of election cases at the tribunal.
"We have now completed the second amendment of our Constitution. The main areas are number of days for the Independent National Electoral Commission to conduct election and for appeal from governorship elections to go to the Supreme Court.
"We must learn to accept sometime when we do not win that we have lost. Losers must learn to accept sometimes that they have lost a gallant fight and not just going to tribunal and that will reduce the cases at the tribunal," Mark added.